The best dog tricks that impress women are the ones that get them approaching you instead of the other way around. If you want to greatly increase your batting average, it is wise to have a few tricks up your sleeve for this purpose. Fido's probably not too busy at the office to learn how to boost your mac daddy persona, so put him to work. There are many great dog tricks for just about every type of breed. I talked to Andy Lewis from Dogrook.com and he helped me to make the list that will transform you into the King of Swank.
Piano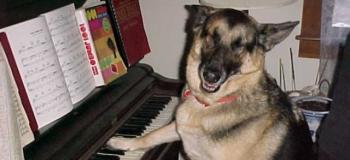 Many people have trained their dogs to play the piano with their paws. So far there has never been a music theory class for canines, so you can hardly expect your dog to play Billy Joel songs. Regardless, your piano playing dog will impress the ladies more than you ever will. Unlike most dog tricks, you can only put your pooch up to this one at home and only if you have a piano.
High Five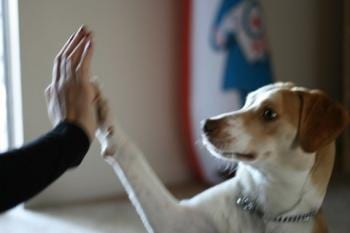 While not as flashy as a piano playing pooch, the high five dog trick will at least get a chuckle from any woman you want to impress. You will find that this dog trick will open doors to many conversations. The "Gimme Four" is very easy to teach your dog, and it's so portable that it can be performed anywhere. There are training videos available on how to teach your dog to give you a high five.
Skateboarding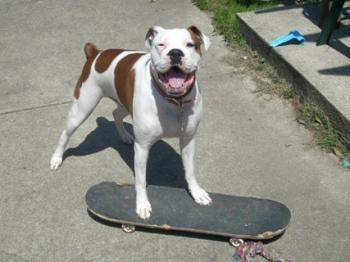 An iPhone commercial made Tillman the Bulldog an overnight success when millions watched him enjoying one of his favorite hobbies—skateboarding. Skateboarding dogs do not exist only on television. The right sized dog can become a certified thrasher punk with proper training. The great thing about this trick is that you can do it pretty much anywhere at your local college campus, farmers market or downtown marketplace.
Dancing
You may be a mover and a shaker, but you just haven't mastered the science of groove maneuvers. That's OK because many types of dogs can cultivate some good old fashioned supergroovalisticprosifunkstication with the right training. Even with minimal skill, you can accompany your dog as its sidekick and let Rover work his magic. You just might find a new partner to hone your skills and get down with.
Reading cards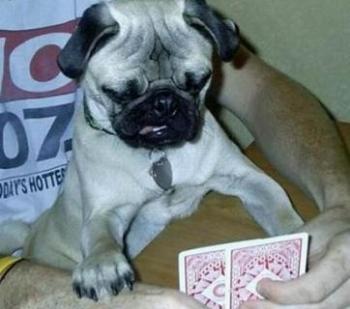 Teaching your dog to respond to cue cards is definitely on the list of the coolest dog tricks that impress women. Women are attracted to men who project authority, especially if that authority is executed in creative and funny ways. You can teach your dog to respond to written commands like "sit" or "roll over" with very simple and easy to learn training methods that you can learn for free online. Therefore, your return on investment—measured by the women you pick up—is infinite.