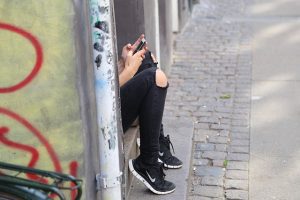 Flirtexting. At some point you're going to have to do it, but if you don't know where to start or what to say, here are some pointers for tapping out a teasing text that's sure to get his attention.
Once you've been dating someone for a while and are comfortable enough to talk about new positions over brunch, you can send him X-rated stuff. But if you've been dating for less than a month, it's best to keep it PG-13. The point of these texts is to tease — you want him to snap that phone shut with a little spring in his step because you're starting to be more forward about your interest and attraction. The point is to be fun and outgoing, and leave him wanting more.
DO start simple. If you haven't talked in a few days and you're ready to get a conversation going, a simple "Hi :-)" lets him know you're thinking of him and are ready to flirtext. DON'T say, "What are you doing?" That comes across as though you're stalking him or accusing him of something.
If you want to plant a sexy seed that can bloom at your date later, DO let him in on the sweet way you're spending your afternoon. "Just doing a little shopping at Victoria's Secret!" or "About to relax with a glass of wine in the tub." Anything that gives him the idea that you're doing something sensual is a good idea. DON'T overshare. He doesn't need to know you're naked or pleasuring yourself.
DON'T underestimate the power of your camera phone! But leave a little something to be desired. DO try a "What do you think of my new skirt?" text that shows your skirt from a sexy angle that reveals as much as it conceals. DON'T do this if you haven't been dating for very long.
DO flirt by being indirect. If you're stuck at a lame work event, make a joke that lets him know you're thinking of him. "All this super interesting talk of upcoming projects and outreach almost makes me miss you less."
If he's leading the conversation, DO ask questions. "Oh yeah??" "How come?" "Why's that?" He might be trying to flirtext you; questions will give him the green light.
DON'T use 2 many abbreviations. It's hard to find a text sexy if it's heavy on the symbols, numbers, and shorthand. "Want 2 do u" is trashy. "I want you tonight" is hot. DO use emoticons to keep it from sounding like an old-fashioned romance novel.
DO make flirty promises as you're making plans. "I promise I won't keep you up all night." "Don't worry, I won't make you work too hard." Texts like that are going to make him want you to do all those things.
DON'T be too serious! If you're out and about and want to meet up with him — on the town or in bed — the word "play" is a great go-to. "Come out and play with me!" is sure to get his attention, and it's good for a new relationship or if you're shy.
DON'T state that you're drunk. You can say "having a cocktail" or "at the bar," but starting off with "Just did a body shot!!!! Where u @??" is going to lead to trouble.
If you are a little bolder, DO ask him what he's up to. Follow up with, "That's no fun! Wouldn't you rather come out and take advantage of me?" The answer to that is always going to be YES.
If it's getting late in the evening and you're chatting with the intent to score an invite to his place, DON'T send a blatantly sexual text laced with words you can't say on TV (and you will be tempted after that third glass of wine). DO say, "All my friends are ready to leave, but I'm not tired yet." Done and done!