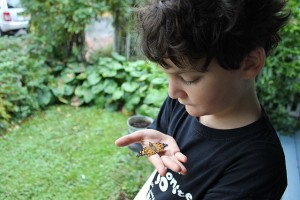 Our caterpillars transformed into butterflies this past weekend. And just as we were fortunate to see the caterpillars spin themselves into their chrysalises we were also fortunate to see the butterflies emerge.
The entire process has been fascinating to witness and added such a sense of excitement and wonder to a relatively small moment in time.
Yesterday it was warmer than it has been, so I figured it would be a good day to let the butterflies go. We took them out on the dinning porch. I opened the habitat and one flew out almost immediately. The others were a little less enthusiastic about leaving.
I gently reached in and encouraged them, one by one, to crawl on my finger so that I could raise them out of the habitat. Each one had a different experience. The first lifted off as soon the breeze hit it. The second was afraid and it sat and vibrated, which is a natural form of defense we learned. That one finally flew with a little encouragement. Butterflies three and four first stretched their wings, giving a few preliminary flaps to make sure all was in order, before flying away.
Caidin lifted the last one out and it was clearly not afraid (no vibrating), nor was it in any hurry to leave. It sat on Caidin's hand for a while. Turning to face him, testing out its wings and seemingly enjoying sitting where it was sitting.
After several minutes, it finally lifted off and flew away.
Magical is an understatement of not only this moment, but also of the entire process of watching the process from caterpillar to butterfly.
Cadin and I agreed we would like to do this again.
Some people might say that I am just a kid at heart.
But when we see a child-like nature, what we are really seeing is conscious awareness. The wonder, simplicity and enthusiasm that children experience isn't 'child-like' it's consciousness and children just haven't lost that awareness yet.
Help your child retain this consciousness, and reawaken yours if somewhere along the way you have fallen asleep.
© 2012 Christine Agro
Come join me for free at The Conscious Mom's Guide for insight, guidance, support and a growing community interested in Conscious Parenting.
Have questions about your child or need support? Christine offers private readings as well as on-line support at The Consicous Mom's Guide
Christine Agro is a clairvoyant, naturopath, Master Herbalist, conscious mom and author of 50 Ways to Live Life Consciously as well as of The Conscious Living Wisdom Cards (Special Moms' Edition). Christine is founder of The Conscious Mom's Guide , a membership site where she helps support you on your own journey of living life consciously and on your journey of being a Conscious parent. You can also join Christine on Facebook. To contact Christine, invite her to speak or to schedule an appointment with her please email her.