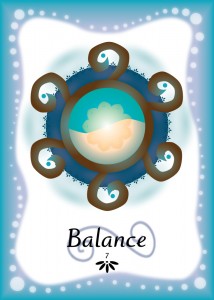 Friday Wisdom is shared from Christine Agro's Conscious Living Wisdom Cards (Special Moms' Edition) Each Deck has 42 cards and a booklet that offer insight and guidance for parenting consciously.
Balance Card #7 in The Conscious Living Wisdom Cards (Special Moms' Edition)
Here is my Conscious Living Wisdom Card text for Balance:
For You
Balance is the holistic synergy of our outer and inner worlds. Living out of balance can take the appearance of having either too much or not enough of something. Maybe you find yourself saying "I have too much to do" or "I don't have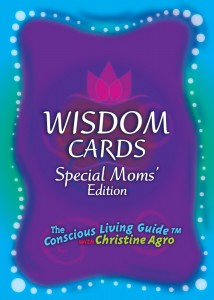 enough time, or money or space." To find balance, you must consider your actions in both your inner and outer worlds. Our outward direction of energy is considered masculine in nature and our inward direction of energy is considered feminine. Outward is defined by the things we do and the people for whom we do them, whereas inward is defined by the things we do for ourselves. If you put everyone before you, you will not have anything left for yourself when you need it. If you cannot say "no" to people who want and need things from you, learning to set healthy boundaries will benefit you greatly. Consider making this your mantra: "Just because I can do something doesn't mean I have to." To help you gain insight into your inner and outer balance, practice the yogic asana called Tree Pose. In this pose you balance on one leg at a time. An inability to balance on your left leg indicates that your feminine energy is out of balance, as is your focus on yourself. An inability to balance on your right left reflects an imbalance in your masculine energy as well as your outward focus. If you drew this card, reflect on the choices you make throughout the day and consider whether they contribute to balance or imbalance in your world.
For Your Child
Balance in our children's lives offers them a sense of certainty and stability. If their lives are out of balance, they can experience fear, apprehension and resistance. As moms one of our jobs is to monitor our children's reality and ensure that they have balance – balance between activity and downtime, balance in food choices, balance between alone time and time with you. If you've drawn this card for your child, look for places where his life may be out of balance. Is he over-scheduled? Does he have enough interaction with you and with friends? Does he get to just be a kid? Find ways that you can help him create balance. Our outer world is a reflection of our inner and vice versa. If you teach your child about balance now, the knowledge will greatly benefit him in the future.
Balance #7 in The Conscious Living Wisdom Cards (Special Moms' Edition), Illustrated by Samantha Bachechi, Creative Medium LTD (C) 2010-2012 Conscious Living Unlimited LLC
**A note about The Conscious Living Guide Wisdom Cards (Special Moms' Edition): There are 42 cards in the deck and a guide book. The guide book includes insight for you which is meant to help you live life more consciously as well as insight for your child, which is meant to help support you in your Conscious Parenting.
*Additionally, to avoid the awkwardness of saying he/she all the time, I have picked one gender to identify in each card.
© 2012 Christine Agro
Come join me for free at The Conscious Mom's Guide for insight, guidance, support and a growing community interested in Conscious Parenting.
Have questions about your child or need support? Christine offers private readings as well as on-line support at The Consicous Mom's Guide
Christine Agro is a clairvoyant, naturopath, Master Herbalist, conscious mom and author of 50 Ways to Live Life Consciously as well as of The Conscious Living Wisdom Cards (Special Moms' Edition). Christine is founder of The Conscious Mom's Guide , a membership site where she helps support you on your own journey of living life consciously and on your journey of being a Conscious parent. You can also join Christine on Facebook. To contact Christine, invite her to speak or to schedule an appointment with her please email her.