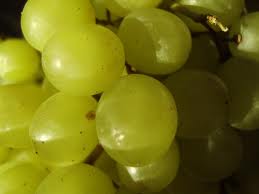 Sometimes it's hard for us to see how much our kids are growing and changing. We live with them day-in and day-out so unless they sprout up 5 inches overnight, their growth, maturation and evolution happens sometimes silently and subtly.
You look at them and you think 'do those shorts look a little tight?' But the thought is jarred out of your mind as you move on to the next request, next meal, next question, next shuttle transport to sports, music, or friends.
Yesterday I packed Caidin's lunch with a homemade hummus roll-up, a chocolate pudding, a granola bar, some nuts, a drink and six grapes. Last year, six grapes were two too many. Caidin's lunch almost always came back with two lone hot and squishy grapes.
When Caidin got home yesterday he was unpacking his lunch bag (it's item #2 on the 'things to do when you get home list.') As he unpacked it, he got to the small container that held his six grapes. With a smile on his face he said 'Six grapes? Why did you give me six grapes?' Not knowing if six grapes were too many or too little I said 'and six grapes were…?' 'Not enough, Mom,' he exclaimed.
So there you have it, the difference a year makes as evidenced by six grapes.
Last year, six grapes were too many, this year they are too little.
Today, Caidin got 12 grapes. I'll let you know if two come back.
© 2012 Christine Agro
Have friends who will benefit from this information? Use the handy share options provided at the top of the article . You'll find Facebook, Twitter, Google +1, Email or click the 'share' for many, many other options.
Remember, join me at The Conscious Mom's Guide for more insight, guidance and to connect with a growing group of conscious parents.
Have questions about your child or need support? Christine offers private readings as well as on-line support at The Consicous Mom's Guide
Christine Agro is a Clairvoyant, Naturopath, Master Herbalist, Conscious Mom and Author of 50 Ways to Live Life Consciously as well as of The Conscious Living Wisdom Cards (Special Moms' Edition). Christine is founder of The Conscious Mom's Guide , a membership site where she helps support you on your own journey of living life consciously and on your journey of being a Conscious parent. You can also join Christine on Facebook. To contact Christine, invite her to speak or to schedule an appointment with her please email her.