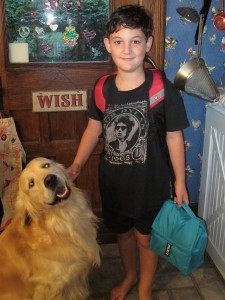 Caidin headed back to school today. He was so excited that he couldn't go to sleep last night and he got up early this morning. Last night he went through a range of emotions from excitement to fear. At one point he came downstairs with tears in his eyes saying 'I can't remember anything. I don't even know what 19 + 19 is. What if I can't remember anything tomorrow.?' So much pressure on himself.
I assured him that he would be fine, ran through a few math problems, all of which he did fine with, including answering what 19+19 was and tried to convince him that they weren't going to start off doing math first thing in the morning. Then I asked his dad to take him back upstairs, since I was getting ready to teach a class.
This morning, the worries of last night were gone and Caidin was eager to get to school. We were the first family there, which was nice. It gave Caidin time to walk around, explore the changes made to the school over the summer and say hello to not only his new teacher, but his teacher from the last two years.
He was happy, confident and excited.
After several hugs, I headed out as the buses were arriving, filled with more happy, excited kids.
While I was driving home I found myself thinking about what I hope for Caidin this year. I realized I never really set this out into the world, but it's an important thing to do, not only as a parent, but for your child to do as well. So when Caidin gets home, I'll have him make up his own list of what he hopes for himself this year.
Here is my list of wishes for Caidin this year.
I hope that he is happy.
I hope that he has fun.
I hope that he deepens his old friendships.
I hope that he makes new friends.
I hope that he loves learning.
I hope that he is challenged in positive ways to stretch outside his comfort zone.
I hope that when he does stretch, that he discovers something new and wonderful about himself and about life.
I hope he dances, and sings and laughs.
I hope that he is seen and heard.
I hope that he stands up for himself.
I hope he stands up for others.
What do you hope for your child?
Share your wishes here or over at Facebook. Last week I talked about our kids abilities to manifest (Is Your Kid A Marvelous At Manifesting). We have the ability too. Put your wishes out into the world, so that they can manifest!
Happy back-to-school!
(C) 2012 Christine Agro
Come join me for free at The Conscious Mom's Guide.
Have questions about your child or need support? Christine offers private readings as well as on-line support at The Consicous Mom's Guide
Christine Agro is a clairvoyant, naturopath, Master Herbalist, conscious mom and author of 50 Ways to Live Life Consciously as well as of The Conscious Living Wisdom Cards (Special Moms' Edition). Christine is founder of The Conscious Mom's Guide , a membership site where she helps support you on your own journey of living life consciously and on your journey of being a Conscious parent. You can also join Christine on Facebook. To contact Christine, invite her to speak or to schedule an appointment with her please email her.