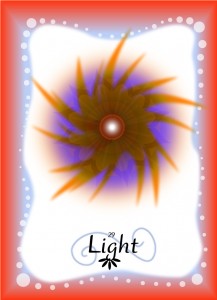 Friday Wisdom is shared from Christine Agro's Conscious Living Wisdom Cards (Special Moms' Edition) Each Deck has 42 cards and a booklet that offer insight and guidance for parenting consciously.
Light Card #29 in The Conscious Living Wisdom Cards (Special Moms' Edition)
Today I drew the Light Card.
So many uses of the word light but they all have the same meaning – to illuminate, to bring out of the darkness – whether we are talking about turning a light on in a room or letting our inner light shine bright from within, it is the same meaning.
Children have that inner light – that sparkle in their eye of life and joy and enthusiasm and of living life fully. They have it until it is extinguishes. Inner light becomes extinguished when it is told to hide or be less, when it is ridiculed and criticized. It is extinguished when it is belittled, diminished and ignored.
As Conscious Parents, or grandparents or teachers or care providers, it's our opportunity to fan the inner light of the children in our lives. To see them as the powerful beings they are, to support them as the learn to navigate this world and to teach them to never extinguish their inner light, no matter how others may try.
Here is the text from the Conscious Living Wisdom Card Deck Booklet: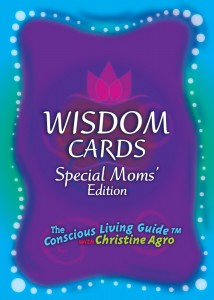 For You:
Are you hiding your light? Your light is the essence of you as a spiritual being, and it is in embracing your inner light that you live fully and completely. Anything less means you are limiting who you are and what you can have. So let it shine! That doesn't mean everyone will appreciate its brightness. What's important to know is that when people around you don't appreciate your brightness, you are not the problem; it's that your light shining causes them to see that theirs is not. This reaction in itself is one reason we hide ourselves, because those around us cannot accept us for all that we are. Subscribing to this way of thinking, plain and simple, keeps you living as less than who you truly are. This card asks you to stop hiding your light and let it burn brightly.
For Your Child:
Children are born as bright lights. It is only when they are taught or made to hide their inner light that they begin to dim it. This happens when the people who are most important to them dismiss or diminish them, or when they are out right told to "tone it down." Not only parents and grandparents can do this, but so can care providers, teachers and others who guide and mold our children. A singing, dancing child is expressing his light. A curious child with lots of questions is expressing his light. Telling him to "stop it" or not making time to engage with him signals that his brightness is not okay. There are other ways to address his behavior that respect your needs and schedule without shutting down his light. It's perfectly fine to say, for example, "I can't right now, but let's come back to this after dinner." Fan the flame of your child's inner light. Let him shine as brightly as he can. Be a voice and an advocate for him and teach him to never reduce his brightness for anyone.
Light Card #29 in The Conscious Living Wisdom Cards (Special Moms' Edition), Illustrated by Samantha Bachechi, Creative Medium LTD (C) 2010-2012 Conscious Living Unlimited LLC
**A note about The Conscious Living Guide Wisdom Cards (Special Moms' Edition): There are 42 cards in the deck and a guide book. The guide book includes insight for you which is meant to help you live life more consciously as well as insight for your child, which is meant to help support you in your Conscious Parenting. *Additionally, to avoid the awkwardness of saying he/she all the time, I have picked one gender to identify in each card.
© 2012 Christine Agro
Come join me for free at The Conscious Mom's Guide. I uploaded two new videos – one a pre-pregnancy reading I did with a lovely miracle ending and the other is a Conscious Parenting Tip – Stop, Listen and Interact. You'll also find the Conscious Parent Forum where you can ask, share, receive support and inspire others.
Have questions about your child or need support? Christine offers private readings as well as on-line support at The Consicous Mom's Guide
Christine Agro is a clairvoyant, naturopath, Master Herbalist, conscious mom and author of 50 Ways to Live Life Consciously as well as of The Conscious Living Wisdom Cards (Special Moms' Edition). Christine is founder of The Conscious Mom's Guide , a membership site where she helps support you on your own journey of living life consciously and on your journey of being a Conscious parent. You can also join Christine on Facebook. To contact Christine, invite her to speak or to schedule an appointment with her please email her.