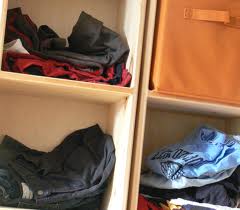 Who would have thought that cleaning out the clothes drawers would spark a major reflection and emotional downturn?
But that's exactly what happened when I declared that it was time to sort through Caidin's drawers and weed out the clothes that no longer fit him; which turned out to be about two thirds of what was in there. From t-shirts to shorts to every single pair of his jeans, things were either too short, too small or too tight.
As we went through his drawers he stopped to reflect on each piece of clothing, more so with the t-shirts, but every single piece had some comment connected to it.
We don't have a lot of extra space in our house, which is a good thing, it cuts down on holding onto things we don't really need, but it also means that we are often sorting through Caidin's things, bagging them up and giving them away to charity or to the neighbors. Caidin's usually pretty good about it. Sometimes it takes him several minutes to get comfortable with the idea, but usually he does.
Not yesterday though. Caidin was especially attached to each piece I tossed into the 'no longer fits' pile.
Several t-shirts were pulled back out, to which he would say, 'I have a lot of memories in this t-shirt.' Or 'I really loved wearing this.'
All I really wanted to do was get his drawers cleaned out so that I could assess exactly what I needed to buy before Caidin headed back to school. I didn't want to spend two hours sorting through his drawers, but it seemed very important to him, so where I didn't feed into it, I let him talk about the clothes and pull out several things to keep.
Caidin is not only a deeply feeling child, he's also a deeply sentimental child. People really matter to him and experiences and memories are very vivid in his mind. Oftentimes his memories include what he was wearing at the time, what he was eating or where he was when he received a gift.
One shirt that I thought we could let go of, and I should have known better, was an orange t-shirt with a tiger on it. I remembered where we got it; my Mom and Dad bought it for Caidin at the Buffalo Zoo when we went for a visit. What I forgot, but I know Caidin did not, is that the shirt was one of the last gifts from my Dad only a few months before he died.
There was something more going on yesterday though, more than sentimentality and sensitivity though.
Later in the day, I noticed that Caidin seemed a little down, so I asked him if everything was o.k. He said he felt sad, but he wasn't really sure why. I asked him if he was upset that we had to clear out so many of his clothes to which he said 'yes'.
I shared with him my philosophy that if we don't clear out what doesn't work for us anymore (physically, emotionally, energetically) we don't have room for new things to come in. I suggested that maybe this was exciting since it meant he was getting bigger. (His pants that fit in the spring were 3 inches too short.)
'I know,' he said. 'But it also means I'm getting closer to when I will be going off to college and I won't see you as much.' Ah, there it was, his mind had traveled down the road and this was at the heart of his sadness, getting bigger means growing up and leaving home.
Sometimes we just don't know what thoughts are percolating in our kid's minds. We are so intent on getting done what we need to get done; we can easily overlook a deeply intense experience coming out of, what to us was, simply a chore.
Growing up is part of life and we can't take these experiences and moments from our kids, nor should we try, but we can be there to bear witness, to embrace, to support and to help them make sense of what they are feeling.
© 2012 Christine Agro
Have friends who will benefit from this information? Use the handy share options provided at the top of the article . You'll find Facebook, Twitter, Google +1, Email or click the 'share' for many, many other options.
Remember, join me at The Conscious Mom's Guide for more insight, guidance and to connect with a growing group of conscious parents.
Have questions about your child or need support? Christine offers private readings as well as on-line support at The Consicous Mom's Guide
Christine Agro is a Clairvoyant, Naturopath, Master Herbalist, Conscious Mom and Author of 50 Ways to Live Life Consciously as well as of The Conscious Living Wisdom Cards (Special Moms' Edition). Christine is founder of The Conscious Mom's Guide , a membership site where she helps support you on your own journey of living life consciously and on your journey of being a Conscious parent. You can also join Christine on Facebook. To contact Christine, invite her to speak or to schedule an appointment with her please email her.