Friday Wisdom is shared from Christine Agro's Conscious Living Wisdom Cards (Special Moms' Edition) Each Deck has 42 cards and a booklet that offer insight and guidance for parenting consciously.
Movement Card #33 in The Conscious Living Wisdom Cards (Special Moms' Edition)
Today I drew the Movement Card.
Kids need to get out and move. They have an inordinate amount of energy, and moving helps them to burn it off. It is also healthy for them to be outside, getting air and getting exercise.
Get involved this weekend and go for a walk, a hike or run around the yard and play tag. Physical movement can also help energetic movement.
Here is my text from The Conscious Living Wisdom Cards (Special Moms' Edition) for additional support. Do you have your deck yet?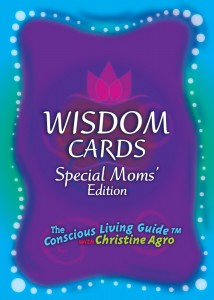 Movement is essential for your life to flow. If your job entails sitting, be sure to get up and move throughout the day. Not only will this be good for your body, but it will also help move energy. If things have seemed "stuck" lately, get your body moving, and life movement will follow. Movement can also help you work through emotions and resolve problems that have your mind whirling. Whether you take a brisk walk, do yoga or Pilates or simply dance around the house, adding movement into your day will infuse your life with a greater sense of flow.
For Your Child
Perpetual motion is a good description for the movement of a child. He runs to burn off energy. Most people know that, but don't stop to think what that really means. Energy can be overwhelming to children. They are pure receptors of energy, whether it comes from internal emotional or mental stimulation or from absorbing the dynamics around them. Movement helps them release the energies they collect and experience. The type of movement children most often express is full steam ahead. Try introducing your child to different types of movement. Slow, fluid movement helps calm and soothe and connect the body, mind and heart; intentional stomping helps release fear, frustration and anger. Movement can also be a great way to celebrate and live joyously.
Movement Card #33 in The Conscious Living Wisdom Cards (Special Moms' Edition), Illustrated by Samantha Bachechi, Creative Medium LTD (C) 2010-2012 Conscious Living Unlimited LLC
**A note about The Conscious Living Guide Wisdom Cards (Special Moms' Edition): There are 42 cards in the deck and a guide book. The guide book includes insight for you which is meant to help you live life more consciously as well as insight for your child, which is meant to help support you in your Conscious Parenting. *Additionally, to avoid the awkwardness of saying he/she all the time, I have picked one gender to identify in each card.
© 2012 Christine Agro
Come join me for free at The Conscious Mom's Guide. I uploaded two new videos – one a pre-pregnancy reading I did with a lovely miracle ending and the other is a Conscious Parenting Tip – Stop, Listen and Interact. You'll also find the Conscious Parent Forum where you can ask, share, receive support and inspire others.
Have questions about your child or need support? Christine offers private readings as well as on-line support at The Consicous Mom's Guide
Christine Agro is a clairvoyant, naturopath, Master Herbalist, conscious mom and author of 50 Ways to Live Life Consciously as well as of The Conscious Living Wisdom Cards (Special Moms' Edition). Christine is founder of The Conscious Mom's Guide , a membership site where she helps support you on your own journey of living life consciously and on your journey of being a Conscious parent. You can also join Christine on Facebook. To contact Christine, invite her to speak or to schedule an appointment with her please email her.