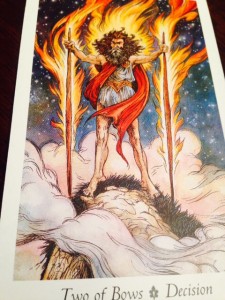 Is there a decision you are delaying? A decision you are leaning on? Which way will you go?
We have the Two of Bows (Wands) here, from the WildWood Tarot. He's grasping Decision no. 1 in his right hand. Decision no. 2 in his left. He's in the middle. What will he (you) choose?
This weekend's Full Moon Eclipse is in LIBRA, the sign known for its "waffling" and indecision. Fence-sitting! I know I know it's an astrological cliche but look at this guy! He is not moving, feet planted firmly! And his two options are on fire! Eventually they will both burn up.
So I draw again, as I love to do, and we see Six Arrows (Swords), Transition. You are moving forward even when it doesn't feel like it, and the decision WILL be made.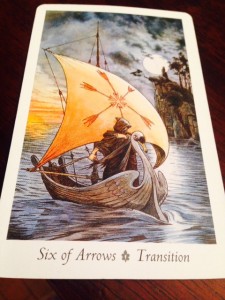 I think you are heading home.
Wishing you good cards xx