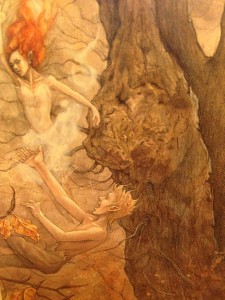 What the hell, Tarot?
Last two draws for this column: the Death card.
And today? The Tower. The Blasted Beech (Tarot of the Hidden Realm deck).
Will they make it? They are falling from a great height. Will they make it? The one with the fiery red hair reminds me of our friend from the Nine of Wands, the fire dancer. Is the blond one trying to catch him/her? Or just falling, free-falling. Is this your life? Or, to quote Richard Hugo: isn't this your life?
HELP! HELLLLLLLLLLLLLLLLP!
That's what I "hear" when I hear this card, BUT…
But what's scary is the unknown and the changes coming — not necessarily because the changes are bad. Quite the opposite, little dove.
And this too: how will know how to land if you never leave the nest? How will you know HOW you land?
I drew again because I can't help it. King of Wands. King of Fire.
So let me ask again:
will you make it? Is this your life? Are you falling from a great height? Do you know how to land?
You are strong.
You can do this.
Wishing you good cards xx