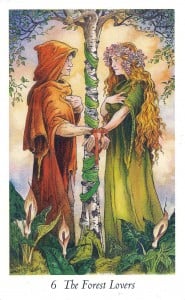 I did not draw this card for this column. In fact I cannot remember why I drew it. Probably for someone today, in some context, maybe the class I'm running but I honestly cannot remember now. It's a good card, the Lovers, the one we love to see, especially when asking love questions. I remember last year, November, getting a LOVE reading from a Tarot reader (yes I get readings as well as give them) and the Lovers was one of MY cards. And it came up again as well. I love the Lovers.
Okay okay okay NOW I REMEMBER (and please excuse my fading memory) but now I remember. It was a card for ME. So count that as three times. I was drawing a few cards from the WildWood Tarot to see the "energy around" Venus entering Taurus and Venus is now at 0 degrees Taurus and I pulled:
The Blasted Oak (Tower! Boo!), Two of Arrows (Swords), and then The Lovers. And in this deck this Two has a far darker meaning than I ever feel from the Rider Waite (it's called Injustice in this deck, the scales are not balanced).
So there I am. Thrown from a tree, blindfolded, and in love? Loved?
Ah Tarot Reader reads for herself. I admit, sometimes I can't and sometimes I can and I never want to see the Tower. I don't want to be shocked, surprised, or thrown from a great height, tree branches breaking, flames nipping at my ankles and heels.
AND YET
Maybe we can see this card as freedom. Release. IF ONLY SHE KNEW WHERE SHE WAS FALLING. But does that defeat the purpose of a fall? To know where? And how? And when?
Change is scary. I was fine in that treehouse, wasn't I, with all its branches intact? And then the Two of Arrows lady who refuses to see that the gold on the scale weighs the same as a feather. She refuses to see what has to change to GET to the Lovers.
Venus, they say, is at home in Taurus because she "rules" Taurus. If you are curious what this transit has in store for you, try pulling a few cards but don't be surprised if they tell you what you may *not* want to know — that your happy ending may be paved with Towers and Arrows too.
Wishing you good cards xx