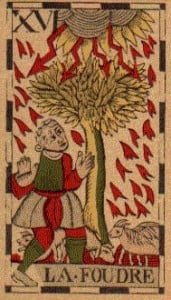 The Tower isn't always bad. I used to think the Tower was always bad. I would often see it for BAD — for evictions and my best friend's cancer and another eviction and BAD.
But when I saw it today for a client who I've worked with quite a bit over the years, I KNEW it was not bad. I knew.  See, Tarot reading is an interpretive intuitive ART.  And I think it's different for everyone, which chakra you engage with the most. Do you get thoughts? Do you get feelings? How the information comes to you is mysterious and different for everyone.
So today when I was talking to this fabulous Aries and she told me about her new project and I saw the Tower and I did NOT feel bad inside AT ALL, I thought to myself: thought forms falling away. I thought: this project is going to change her life. I had to dismiss, in a sense, the gruesome image and then moments  after the reading I went to consult one of my Tarot references from my personal occult library and there it was, sounding like a Saturn Return: the unnecessary constructs GONE.
And funny I was making my video for Cancer (my sign), pulling the card for myself  (and the collective) and I even said it: NOOOOOOOO TOWER!!! And there was no Tower. But today's Tower? For my Aries gal? It was good.
Now of course life is long and this project is just beginning so who knows, but then she said it could change her course of study in school and I leaped! Not literally but my whole insides LEAPED YES THAT'S IT!!
It could be big she said. It could be big, I agreed. It will definitely be big. Tower big. Mind blown. Life changing.
I still don't wish to see the Tower but I'm glad I had a good Tower moment today, to file away, for the next time.
Wishing you good cards xx