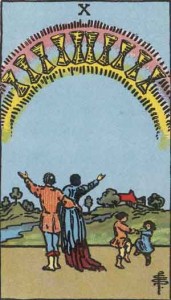 And what a beautiful card we see today, the Ten of Cups, one of the happiest cards in the deck. I've gone traditional this morning, got my Rider Waite here, and we see a happy couple with arms outstretched, dancing children under a rainbow. It's more than contentment but contentment is part of it.  Joy. Dare I say… ecstasy. But the ecstasy of full heart family life. No one goes hungry. The ten cups are full. Are they showing it to us? What they have? They do not face us, but this gesture of… it's a theatrical gesture oh what a beautiful day. No, they don't notice us at all. They don't have to.
You know, Tarot shows you what is possible, within your reach and already there. The cards aren't here to taunt you so… if you see the Ten of Cups then you have the Ten of Cups — or it's on the way. It's in your energy. You are drawing it in. You are giving it out. Important also to remember that Cups are feelings and this card, to me, is… the best most you can feel and positively. It's not the delusional Seven of Cups or the shiny beginning Ace of Cups or even the self-satisfied Nine of Cups. The Ten is the top.
In astrological news, we have a busy busy week. TODAY: New Moon in late Aquarius (or early Pisces, depending who you ask), Sun enters Pisces, and also this week Venus and Mars enter ARIES. We swim, we fight 😉
Sometimes it's like this — energy shifting all at once, and then other weeks are relatively slow, with just the Moon making exact aspects. We are also not that far from Eclipse Season 🙂 the first, a Total Solar Eclipse is at 29 Pisces on March 20th, the Spring Equinox.
Let me draw one more card for y'all: for the New Moon, which is the dark time, the time to wish and hope in secret. We set intentions.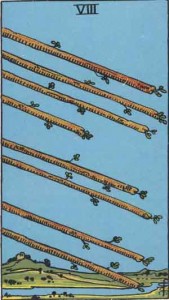 Eight of Wands!! I would say… make sure to set one, set intentions, perhaps even a more complex ritual than you usually do. Because the Eight of Wands is a YES to me. Incoming. Remember the Eight of Wands is the one pip card (in the RW) without a person in it. Elemental. All fire. It is yours. Now what do you choose?
Wishing you good cards xx