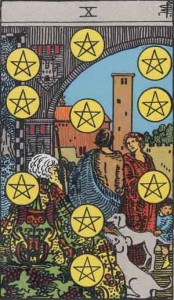 I am so happy to see a happy card! And I don't think I've ever blogged about this card before. The couple in the version of the card that I'm looking at (from the New Palladini) has their back to us. The man has his hand on his partner's back. Ten Pentacles float above them, as part of the archway. We see castle, cloud, moon, mountain, green. Are they heading home? They must be. Maybe out for a midnight stroll.
I enjoy seeing this card almost as much as I enjoy seeing the 10 of Cups and this card is working double-duty today in that I pulled it for myself, for my day, not just for this column. It's a card of peace. Yes the meaning will vary according to context and querent and question and surrounding cards but overall for me it's a positive one even though one time I had a reader bring to my attention the fact that the folks in the Rider Waite version aren't looking at each other and thus may lack in intimacy and over-focus on the material.
To me this card has everything. Togetherness (and the togetherness is blatant in the Palladini version), home, the world. For some, maybe, it would be isolating, but who knows who is waiting for them in the castle. Could be a party or celebration or ritual. At home in the world. Content. And since it's Pentacles we must assume their earth-needs have been assured, taken care of.  No struggle here, nope.
And it's not just lack of struggle, but abundance. Wealth. Fortune. Luxury. To quote Joan Bunning: "This is the card you will see if you are wondering how your latest enterprise will turn out."
The 10 of Pentacles is also giving us a more subtle message, that 10 of Pentacles life is what we should be working towards, material security and strength — but again much depends on what you ask and how you ask.
Wishing you good cards xx