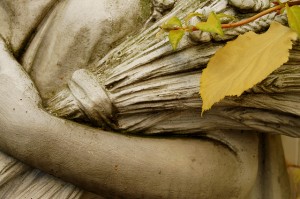 I love this time of year. Early November. It starts to get dark around 4:30 pm or 5. The leaves are still on the trees. We are the trees. We can meditate sooner, rest sooner, dream sooner, put on our fuzzy socks sooner.
Over the summer there was hot competition: car stereo vs. car stereo. Now we have a touch of pin-drop quiet. Just a touch. Even the buses seem hushed. My overhead light feels like the sun. I have a Triple Moon Goddess black box with a glass heart inside. I open it when I want to open my heart. I don't have this sense of ritual in the spring or summer. Those aren't my seasons, even though I was born in summer. This is my time.
In honor of the upcoming Tarot class that I'm doing (and please see the bottom of this post for information) I want to talk a little about the Tarot Queens in the context of Goddess energy, Heroine energy.
I really don't know why all of a sudden, with all my esoteric and metaphysical interests and spiritual crossroading I'm suddenly all Goddessed, but it appears to be the case. A gal who reads my Private Blog noted that something must be 'in the air' because it was happening to her too. Scorpio Season. Scorpio is Yin, feminine energy. How she kept finding books about Goddesses in second hand stores.
So when we discuss the Queens in the Tarot class, I want to talk about them BIGGER i.e. that when you pull these cards, you are being called to… not only emulate, but pay tribute. Not only wonder who this Queen is (is it me? Is it someone else?) but what this Queen needs. Is there a a deity that requires your attention or a relative who has passed on or a spirit guide or a familiar who is showing up in Tarot Queen form come to talk to you.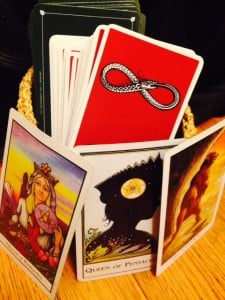 Angeles Arrien writes about "Types of Physical Mastery" in her section on the Pentacle court cards (King, Queen, Knight and Page). I've read before that the Queen of Pentacles is a "health card." Reversed you may need to tend to your health. Mastery of Diet and Nutrition says Arrien.
Mastery. A word my astrology teacher used all the time, careful to make a distinction between control and mastery. When we see the Court Cards, we see what is possible.
Again, from Arrien (who uses the Thoth deck): "She sits on top of a huge pineapple as a reminder of her commitment to build new worlds that are more fruitful and less bleak and barren than the deserts of the past."
Frankly I'd be a fan of any Tarot deck or Tarot writer who wrote about a giant pineapple. That's just cool. And right away we understand that diet and nutrition is a metaphor here. Your money may be "weak" and need an infusion of vitamin. Or your love life.
One of Rachel Pollack's books describes this queen as having a "love of nature, of being intensely involved with the physical world."
In my new favorite deck, the Wildwood Tarot, we see a bear as the Queen of Pentacles (or Stones, in this deck).
This Queen has what she needs. And she gives what she has. When reversed she may "run out" of supplies or good health. She can't give so much then, if at all. When you see this Queen upside-down, do ask yourself if you have forgotten to feed YOU. You may be hungry and the upcoming in Full Moon in TAURUS will highlight these issues: what you give away versus what you save for yourself. (A very interesting combination — the keeper and the giver, if you've ever known a Taurus/Virgo combo.)
How I feel when I see the Queen of Pentacles depends on the context, depends on the question asked.
And I'm thinking about everything I just read and typed here and how troubling this card truly is when reversed: she may be a bit crazy or messy (due to depression) or simply overwhelmed and exhausted. Her resources may be spilled on the floor. Queen of Pentacles reversed could also be that a psychic vampire has come to prey.
But let's say I see this card in response to a question such as… Is this surgeon a good surgeon? I'd say yes. Trustworthy, grounded, not impulsive, knows her stuff, steady hands. She takes calculated risks only. Good staff. Nice office. Wears comfortable shoes. Possibly expensive comfortable shoes. Good quality.
This is why I love Tarot, one of the reasons anyway. We can study and study and discuss and that is super fun 🙂 but the actual reading or consult is… when the cards come alive. It reminds me of when I worked in the theatre: the script you write is akin to studying the cards… versus the collaborative live show (the reading) which took not only a writer but actors and director (at the very least).
I would choose an Earthy Goddess to be our Queen of Pentacles. A harvest Goddess, a Goddess of the Land, of Crops, of the Body or Money, similar in spirit to the Empress. You can do your own Goddess search on Google. I love the Demeter/Ceres story, but you'll find more, much more. Happy Googling!
Wishing you good cards xx
*
I am doing a new e-course, starting November 15th on the Tarot Court Cards! The cost for the course is $90 and will be in a "secret group" on Facebook. The "room" is always open, so you can learn and participate at your leisure! It will last a month and we will discuss all the Kings, Queens, Knights, and Pages and the different ways to interpret them! You don't have to be a card reader or experienced in Tarot to take the class but this isn't a "what is Tarot" type beginner class. Some experience with the cards is preferable but all are welcome to join in the fun. I also teach Tarot 1:1 if you seek beginner lessons. Just email me at moonpluto@gmail for info.