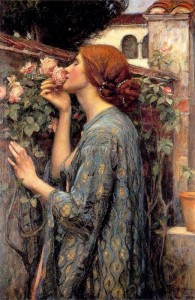 I have a client going through a hard time. Broken heart hard time. And I drew a card for her just now. What she needed to know about her situation and the card was so happy… and the following card (sometimes I can't help but draw two) was also hopeful. And helpful. This girl ain't done yet. She's got good things ahead. The cards? Four of Wands + Ace of Pentacles. I drew the card upright but even reversed, the Four of Wands celebrates.
This girl may not be feeling that first fall blush of optimism, but the cards are, and I am too — even though I've got these allergies here and the last stirrings of a cold.
Libra Season is afoot! The Equinox. Sun into Libra. New Moon in Libra. Rosh Hashanna, the Jewish New Year. I want to draw a card for all this NEW so I will put our lovely Four of Wands and our Ace of Pentacles back into the deck and shuffle away…
What can we hope, dear Libra Season, dear New Moon? I am going to close my eyes and set an intention, make a wish…
NINE OF PENTACLES!
Interesting because I saw this card earlier today. I didn't pull it; a friend did. Reversed. On her wedding anniversary! Another card she pulled was Temperance which is a marriage card. Seemed clear to me. Don't be alone. You aren't alone. Mix and mingle with your man 🙂 Marriage is a feast of cooperation and compromise. I don't know if this gal feels alone but I believe the cards were recommending she focus on union rather than woman-alone-with-bird-of-prey 😉
But about the Nine of Pentacles upright for the New Moon in Libra: this card doesn't foretell aloneness per se but I think it does mean you'll be advancing in ways that are unique to you. It doesn't mean your relationship sours, no not at all. Instead, you get stronger overall. The NINE is almost done. The NINE is ready to be done. Some Tarot authors say the nine is completion and others say the ten is completion and still more give that keyword for both.
What I feel: this nine feels damn good on her own, but yes she is one number short of fulfillment and perfection. The card is lush foliage and healing vibrant yellows and reds. Long plush gown trailing the ground and a little red hat to match her bird. Serene in this moment. She wants for nothing. Lacks nothing. Some say she has family and love but they are not pictured. They show up again when we see the contented ten.
Some other keywords for the Tarot NINE:
-luck
-solitude
-self-reliance
-goals achieved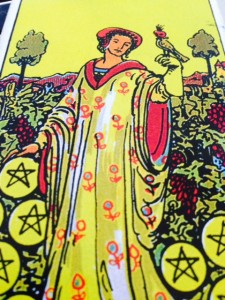 This is a card of HARVEST. I forgot to mention the good juicy grapes in the image and oh my how her pentacles (resources, money) have grown fat and strong. She can rely on them. They seem to grow not only out of the ground but from her flower strewn brocade.
This card makes me happy just gazing at it. All your hard work during Virgo Season is FINALLY paying off.
Wishing you happy cards xo
*
P.S. Are you interested in receiving a personal Tarot/Astrology reading from me? My September Back to School Special is on! I'm reducing my rates for first time clients who find me through Beliefnet. ALSO I'm starting a NEW FACEBOOK GROUP for Tarot lovers. Free! Click here to get in touch.