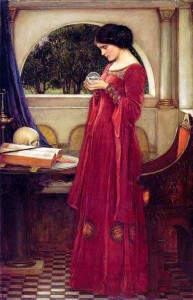 I didn't know what to write about for the New Moon in Libra. It all felt old to me. Making me want to scream. Again the advice to set New Moon intentions. New Moon intentions around relationships and other Libra issues. Draw a card for the New Moon. Draw two cards for the New Moon. Draw a card for the setting of new relationship moon intention issues 😉
And then my dear husband went to smoke a cigarette and it annoyed me. We now live in an apartment where smoking inside is permitted and I'm an occasional smoker so we got this smokeless ashtray and… suffice to say that everyone is smoking more than they want to or should up here. Now that it's ALL ACCESS and stuff.
So I went to my room and lay down in the dark on the futon against the soft white back and belly of the purring cat, my Cleo, and it came to me. The idea. That I would create a new Tarot spread for the New Moon in Libra. Libra is the peacemaker. One of THE MOST IMPORTANT SKILLS EVER.
A few things to keep in mind:
-New Moons are the dark times, seed times, beginnings, wishes.
-the Sun enters Libra the day before the New Moon, the Fall Equinox
-there are *many* potent astrological events happening all next week and the week after, many hot spots
-despite my reluctance to tell you to set New Moon intentions I am going to strongly suggest you set New Moon intentions because THIS SKY
-the New Moon will be at ONE degree Libra: more symbolism of beginnings and new starts, like the ACES of the Tarot
Step one:
choose an ACE from your deck as your Significator. This is you. This is what you want from the New Moon in Libra. A fresh start in WHAT KIND OF LOVE? Libra is the RELATIONSHIP sign. Solid committed love? Choose Pentacles. Fierce warrior heart love? Choose Swords. Swooning devotional love? Choose Cups. The Fire of Hard Enduring Passionate love? Choose Wands.
And then put a card down for each of the four directions to surround your Significator.
South: here is the obstacle to love
North: here is the opening to love
West: this is love leaving (person or habit to release)
East: this is love coming in (person or habit to embrace)
Five is an UNSTABLE number in the Tarot so I felt it necessary to add one more card, to create a SIX card spread. The Six leads us to stability again, success, harmony. Six is also the number on the LOVERS card!! AND I want you to choose this final card from the MAJORS only. Yes, take the time to separate your deck. This card is the SECRET of your relationship.
Note: many of us use traditional Tarot decks and thus run the risk of pulling a "dark" card as our final card here, but I want this to be a positive Tarot experience for you so I suggest this:
if you pull the Tower or Death or other dark and twisty, please research both the upright and the reversed meanings and consider this card ready, willing, and able to answer to both. Or either. Or whichever resonates MORE with you. Tarot with a net! No falling allowed. This could eliminate some nervousness but I think is also a legitimate strategy for reading. That this final card is not only your secret but contains mystery and ambiguity. And — thing is — I think you'll know what it means.
Wishing you good cards xo
*
P.S. Are you interested in receiving a personal Tarot/Astrology reading from me? My September Back to School Special is on! Please Email me for details. Also I have a NEW Astrology class starting in October. How the October ECLIPSES will affect you. Click here to get in touch.