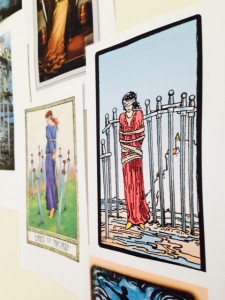 I host two Internet chat rooms where we talk about astrology and tarot all things metaphysical and spiritual, and this morning one of our beloved members offered to pull New Moon in Libra tarot cards for the group.
He pulled the Eight of Swords for me. Are you familiar with this card?
In the Rider Waite we see a blindfolded woman. A white blindfold. White ropes (it looks like a sash) wrap around her arms and torso. Swords to her left, swords to her right, but not in front of her. Are there more swords not pictured? How many? We notice a castle in the distance. Which way was she going? How did she get here? It's a dim looking day, no sun, but her orange vibrant dress matches the castle's smattering of red as well as the mud, marsh, at her feet.
In the Connolly, one of my favorite decks, eight swords have been plunged into the snow. When did this happen and why? A pensive figure looks on, safe inside, but he's as much a prisoner as the RW captive, albeit warmer. The swords do not touch either of them, and for the first time I notice the importance of the weather in this card.
If the Swords symbolize mind, logic, our thinking, what is this Eight telling us? Any Tarot adept knows the Swords suit is often painful, depicting conflict and icy deadlock. Our mind's not right in this card.
We also know that the STRENGTH card in the Major Arcana (woman and her lion) corresponds to the number eight, and surely strength is needed when we see the Eight of Swords, right?
How trapped are you?
Is it time to set yourself free?
And how?
How will you do it?
And how will you know when it's time?
Sometimes we have to stand still. Sometimes we have to rest in uncomfortable places. And sometimes we have to plunge a sword into the snow. Fence ourselves in. Because Swords.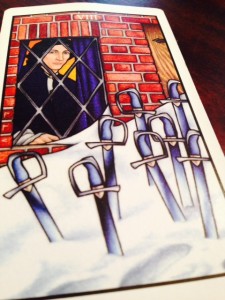 Think of this card as protection. We can see this easily in the Connolly version. We are kept from knowing, we are kept from knowing all, we are kept from choosing, we are kept from acting, we are kept from walking along the road, we are kept from leaving the house to pull out the swords, we are kept from opening, we are kept from opening up, we are kept.
And for these reasons that I am stating here, upon seeing the Eight of Swords, I no longer feel afraid — for the number eight is the number of regeneration. And from the eight we go nine and then ten and there is no eleven in the Minor Arcana except in our imaginations, where we, one by one, draw out each sword.
Wishing you good cards xx
*
P.S. To get a personal reading from me, please get in touch. I use both Tarot & Astrology in my unique hybrid readings. Special rates for my Beliefnet readers. Click here!