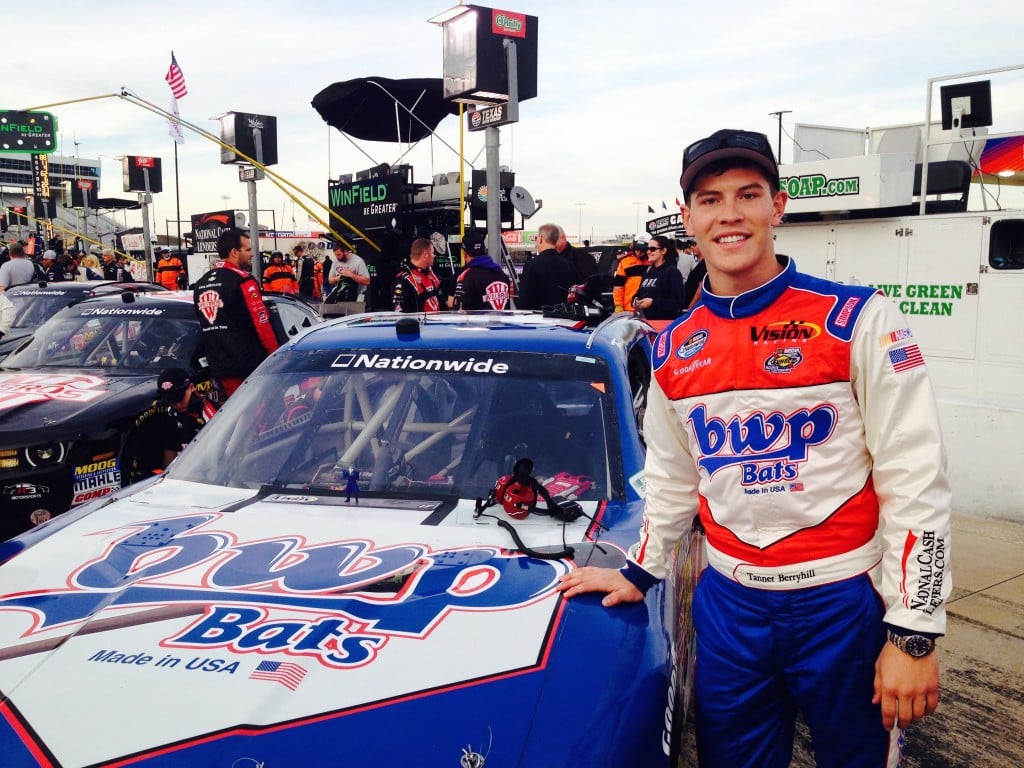 The state of Oklahoma is known for its powerhouse football programs, legendary country music stars and rich Native American heritage. Notice the absence of "famous stock car drivers" from that list.
Taylor Berryhill, barely into his 20's, hopes to change that. The Bixby native and Nationwide Series driver has some serious racing genes in his DNA, a support system that includes his father (who doubles as team owner), and a strong faith that is rooted in an equally strong sense of purpose. In this Inspiring Athletes interview, Berryhill talks about how he got into racing, how he hopes to set a trend within his home state and what's even more important than his career on the track:
Chad Bonham: How did you get from Bixby, Oklahoma, to NASCAR?
Tanner Berryhill: There wasn't a whole lot of racing in Bixby, just some dirt racing here and there. I traveled to Texas Motor Speedway every weekend when I was 12 years old to race legends cars and Bandoleros. I did that for about two years and then I started traveling nationally to race. I raced in Tulsa a few times at JRP Speedway when they ran some stuff there. I just kept moving up the ranks. My dad had an Indy Car team when he was 29 and a Craftsman Truck team when he was 33 and an ARCA team from 2004 to 2005 and a Busch Series team from 2006 to 2008.
Bonham: So you got into this because you were exposed to it a young age.
Berryhill: Right. My grand dad raced. His dad raced. My great uncle raced. Everybody raced. I was basically next in line. Pavement was the way to go. My dad knew that if I wanted to make a career out of it, I needed to go to NASCAR rather than dirt racing. Personally, I like dirt racing a little bit more. It's a little more fun.
Bonham: What has been your involvement in the famous Chili Bowl that's held in Tulsa every winter and has featured NASCAR drivers like Tony Stewart, Kasey Kahne, J.J. Yeley and Justin Allgaier?
Berryhill: My grand dad actually used to own the Chili Bowl. I try to come back and do that as much as I can. It's a really fun race.
Bonham: Do you hope that your presence in NASCAR helps encourage more drivers from Oklahoma to get into the sport?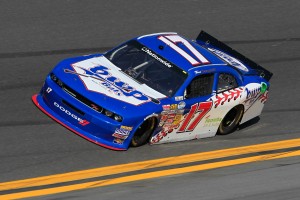 Berryhill: That would be great. I'm actually good friends with Kenzie Ruston from El Reno. She started racing about a year after I did. We raced legends and Bandoleros together. She moved to North Carolina before I did and she's racing in the K&N Series right now and doing really well. I wouldn't be surprised to see her in some truck races or Nationwide races in the future.
Bonham: Talk about the family element of this sport and how that has helped you get through the challenges that come with a racing career.
Berryhill: My dad was my crew chief for the first year and a half that I raced in the Nationwide Series. That was pretty interesting. Then we hired another crew chief. But our team is very family oriented. It's cool. There's strength in family. I'm a big believer that the family that works together will succeed if the right opportunities come along. It's a cool thing for my dad and I to be able to do this together.
Bonham: Where did you attend church in Tulsa?
Berryhill: I miss Life Church in South Tulsa so much. I lived in the neighborhood behind the campus. When I was younger, I rode my bike there. I went there for 10 years before we moved to North Carolina. We were really involved in the youth group "Switch." When I first moved to North Carolina, I was trying to find another church but I couldn't find anything that fit like Life Church. I went to Elevation Church and the first service I went to, (Life Church pastor) Craig Groeschel was preaching. I just thought, "Well, I think I found my church." Steven Furtick is the pastor at Elevation and they're growing big time out on the East Coast. Steven considers Craig his pastor. It's pretty cool to listen to someone who has the same beliefs as Craig does.
Bonham: Expressions of the Christian faith are a pretty common thing in NASCAR. How has that made it more comfortable for you to be in this sport?
Berryhill: I started racing Nationwide when I was 18 years old. It's crazy because there are kids that are younger than me. But what's really helped is having an organization like MRO around. They have the chapel services and they're around the garage if you ever need anything. We get some cool guys to lead worship for us and we have small groups during the weekend. It's been very enjoyable. Being on the road 33 weeks of the year, this becomes your community. You have to get to along with everybody. Racing becomes your life. You still have your friends at home, but you're with these people so much. You have to get along.
Bonham: How do you channel your passion for driving into the greater purpose for why you're here?
Berryhill: That's one of the coolest things about being a racecar driver. Even if its one tweet a day, the platform allows me the opportunity to change someone's life. That's what we're here for. When we're struggling on the track, I try to take myself out of the situation and realize how small these earthly problems are. I love being able to spread the Word. That's my main purpose in life. Driving in NASCAR is icing on the cake.
Follow Tanner Berryhill's racing career by visiting his official website at www.visionracingteam.com
Read about the history of the faith movement within NASCAR. Pick up a copy of Faith in the Fast Lane featuring stories and commentary from Richard Petty, Darrell Waltrip, Bobby Labonte, Ned Jarrett, Bobby Allison, Matt Kenseth and many more racing personalities.