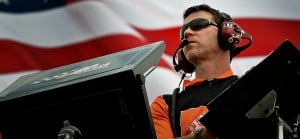 For the past 15 years, Jason Ratcliff has slowly worked his way through the NASCAR ranks as a crew chief for the likes of David Green, J.J. Yeley, Aric Almirola and Jamie McMurray. He's spent time working with Kyle Busch and Denny Hamlin early in their careers and most notably helped lead Busch to the 2009 Nationwide Series title. But now that Ratcliff has made the move to the Sprint Cup Series working with Matt Kenseth and the #20 car, he admits that keeping his life's priorities in order is more challenging than ever.
In this Inspiring Athletes interview, Ratcliff talks about Joe Gibbs' influence, what he's observed about Kyle Busch, which baseball legend reminds him of Matt Kenseth and how his faith in God helps him keep it all together:
Chad Bonham: Tell me about your faith background.
Jason Ratcliff: I was very fortunate to grow up in a Christian home. My dad was a minister for a little over 25 years in the Church of God (Anderson). I was very blessed to have that kind of upbringing and influence from both of my parents. That's where it all started for me. Then probably around the age of 10 or 11, I got saved. My wife and I and our kids, that's what we live for. Our faith is the most important thing to us. Everything we do, we try to do it to glorify God.
Bonham: What are some things you've learned while working at Joe Gibbs Racing?
Ratcliff: I'm very fortunate to work for Joe Gibbs. His belief and his faith are very important. Joe has been very inspiring with not just his beliefs, but with his passion and his competitiveness and how he ties that competitiveness into professional sports. He shows that there can be relationship there. You can be passionate and aggressive about what you're doing but still be humble and still glorify God in everything you do, even when you're on the playing field. Our mission statement is to go out there and kick everybody's tails as often as we can, but in the end, we know that, win or lose, we are extremely blessed to be here.
Bonham: As someone who worked with Kyle Busch during his earlier years, how would you say he's matured and grown during the past couple of seasons?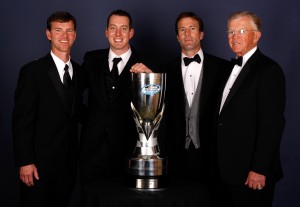 Ratcliff: Kyle is no different than the rest of us when we get married. We settle down a little bit. At the same time, When Kyle first came over to Gibbs, he was young and he still is. We've worked with Kyle on that part of his life. He's benefitted from Coach's influence and being around some people that believe in him and encourage him and support him—like Norm (Miller). Those types of influences and those types of people have meant a lot to me and I know they've meant a lot to Kyle as well. He's changed a lot compared to when he first walked in the door. He was about 21 when I first started working with him in the Nationwide Series. His passion hasn't changed a bit. He still hates losing. He still hates finishing second. But I think he's more humble now and his outlook on life has changed. Kyle and his wife Samantha are great people. Watching Kyle grow and watching his life come together means a lot to me.
Bonham: On the flipside, you're now working with a driver in Matt Kenseth who is the exact opposite.
Ratcliff: Nice and steady.
Bonham: It must be a completely different vibe working with him.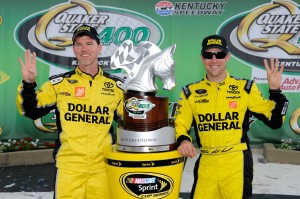 Ratcliff: It is. I didn't really know Matt until a couple years ago. When I think of Matt, I think of a great family guy. He has three girls now. He loves his girls. He loves his wife. He puts things into perspective. He wants to win more than anybody out there, but he knows that there are going to be days when you can't win and he's going to take advantage of the days that he can and appreciate those. Earlier this year we were watching a special on (New York Yankees great) Derek Jeter. He's just a ballplayer. He's not going to win a home run title. But he's just good all-around. He's like the Matt Kenseth of baseball. Matt's not going to go out there and lead all the laps. He's just nice and methodical and patient and he's going to be there at the end. He's going to work hard to try to be the best at every aspect of the sport.
Bonham: What are the unique challenges that come with trying to balance your profession with your commitment to family and your relationship with God?
Ratcliff: It can get really crazy. Moving from the Nationwide Series to the Sprint Cup Series was quite a change. We knew it would be for us—especially not having that Sunday at home. We felt like as a family we could prepare for that and adjust our schedule and do the things we needed to do to make up for it. But it's very difficult. We can't sit here and say that we've got it all together and that we find time for everything. It's tough to work seven days a week and come out here and be competitive and put all your time and energy into this and still have time to focus on your family and focus on God and focus on the things that mean the most to you. We're very intentional about it. I believe in the Sabbath and I think everything that God commands us to do is important. When you live it, you can see why. It's not for His benefit. It's for our benefit. It's difficult to manage that and to find that day where you can just focus on family time and make sure you're involved with your church and that your faith is still growing and maturing. It's definitely harder to do in this series. But I think, at the same time, this is an opportunity and a blessing for me and for my family. I think there's a reason why I'm here. So we're going to do our best to manage it and have faith that God will give us the strength and the direction and the guidance that we need to make it happen.
For the most comprehensive history of the faith movement within NASCAR, pick up a copy of Faith in the Fast Lane featuring stories and commentary from Richard Petty, Darrell Waltrip, Bobby Labonte, Ned Jarrett, Bobby Allison, Matt Kenseth, Michael McDowell, Morgan Shepherd, Trevor Bayne and many more racing personalities.