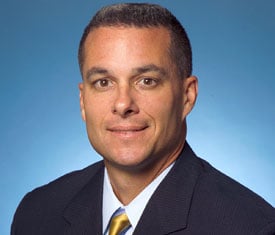 In this day and age, it's amazing that Kansas City General Manager Dayton Moore is even around to enjoy his team's inspiring rise back to prominence. After all, in his nine seasons at the helm, the Royals suffered through seven consecutive losing seasons before finishing 86-76 in 2013 and finally breaking a 28-year playoff drought in 2014.
Within Major League Baseball's ranks, patience is not usually a virtue that owners and fan bases are willing to afford. Yet here Moore somehow stands—in the background usually—enjoying the fruits of his labor. But that has never been the preeminent goal. Certainly winning games is his job, but being the general manager of his family and being an active contributor to the betterment of his community stand much higher on Moore's priority list.
In this Inspiring Athletes interview, Moore talks about his faith, how it impacts the way he does his job and which team matters to him the most:
Chad Bonham: How do you deal with the inherent pressure that comes from running a Major League Baseball team?
Dayton Moore: First and foremost, my number one team is the one waiting for me at home every night. This life is going by pretty fast and I can't spend a lot of time dwelling on successes or failures. More than being remembered as a great general manager, I want to be remembered as a man of God and a great father.
Bonham: What led you to becoming a Christian?
Moore: I got saved in middle school but I didn't really understand what that meant until I recommitted my life when I was a 19-year old baseball player at George Mason.
Bonham: What are some of the challenges you see facing today's professional baseball players.
Moore: They tend to get off track because of bad relationships or because they tie their self-worth to performance. One of my personal desires is to help players deal with those issues and help them manage the highs and the lows of the game.
Bonham: What's your favorite Bible verse and why?
Moore: Philippians 2:3. "Do nothing out of selfish ambition or vain conceit. Rather, in humility value others above yourselves." In my position, there are a lot of people who are always trying to do something for me. But I want it to be the other way around. I want to find ways that I can be a blessing to others.
Bonham: How does being a Christian impact the way you look at your position?
Moore: Being a Christian and being in a position like this is somewhere between a blessing and a burden. I didn't ask to be in this position. In a lot of ways, I have found working at the minor league level in player development to be more fulfilling. But it's a blessing to do something that you love to do and that you're passionate about. Sometimes the world and the media tend to put people in positions like mine on a pedestal that they don't really deserve. If anyone deserves to be put on a pedestal, it's the people who really do the difficult work—people like missionaries and pastors and those who work in homeless shelters.