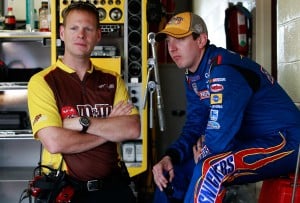 Since 1998, Dave Rogers has been fully immersed into the unique culture of Joe Gibbs Racing. From his start as race engineer for Tony Stewart's #20 team to his current post as crew chief for Kyle Busch's #18 team, Rogers has been through plenty of changes yet found stability under Gibbs' leadership.
In this Inspiring Athletes interview, Rogers talks about how he deals with year-to-year changes within the sport, how he balances his faith and his family with work, how his driver Kyle Busch has matured over the years, and why he isn't always crazy about the media attention that comes with the job:
Chad Bonham: How do approach the challenges of each new season whether that's moving to a new team, dealing with new rules or handling adversity?
Dave Rogers: I've had a lot of changes in my career, but the good thing is that I've been with Joe Gibbs Racing for almost 16 years. There's a level of comfort there. The job responsibilities and the people you work with change from year to year. But I can't say enough good things about Joe Gibbs Racing and the support structure there and all the guys that work there. The change is really seamless. I think we do a good job of promoting from within and encouraging people to set goals and accomplish them. That type of environment makes it easy to switch job positions every now and then.
Bonham: How have you taken advantage of having men like Joe Gibbs and Norm Miller (owner of Interstate Batteries) as mentors in your life?
Rogers: Probably the coolest part of my job is the relationship that I've built with Joe Gibbs. Joe has treated me extremely well over the years. I value every time he comes in my office and closes the door and just wants to talk. Sometimes we talk about racing, but more often we talk about life. The challenges that we fight in this sport are the same challenges that people fight in life every day. Joe has three Cup titles. He's got three Super Bowl championships. He walks the talk. He's a man of great character. He feels comfortable sharing some of those experiences with me and I treasure that.
Bonham: How do you deal with the ups and downs that come with week-to-week racing?
Rogers: That's actually much harder than changing jobs within the company—keeping perspective on how the season is going and how you're racing. That's very tough because this is a performance-based industry. You'll hear people in the garage area say things like, "You're only as good as your last performance." We know that's not really true. But we know that if you put your self-worth in a sport, then that becomes true for you. That's something Joe preaches. Don't put your self-worth in a sport. But it's tough. That's one of the tougher challenges. You're expected to perform. So we always try to bring our A-game.
Bonham: How have you seen Kyle Busch mature over the past two or three years?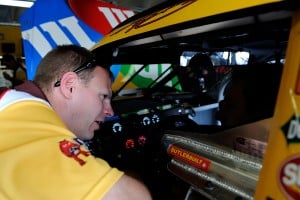 Rogers: Kyle is still a young guy, but we've learned a lot together over the years. We've had a lot of fun working together since late 2009. I see exponential growth every off-season. I think Kyle does a good job looking back at each season and evaluating his pluses and minuses. He does a good job of learning from that and then applying those lessons to the next year. Every year, I've seen maturity and growth out of Kyle. This year is no exception.
Bonham: How important is it for you to have access to the chaplains and chapel services that Motor Racing Outreach provides every weekend at the track?
Rogers: MRO provides a great service to everyone in the garage area. We typically work 80 to 90 hours a week. It's seven days a week. It's 125 days a year on the road. There's a lot of travel and a lot of hours. Joe does a good job of preaching faith first, family second, occupation third. But when you at the hours in a day, the occupation ranks number one. So you've got to exchange quantity for quality when you're talking about your faith and your home life. It's tough to keep everything balanced. That's probably one of the biggest challenges that guys on the road face. Each year, our management team does a good job of trying to shuffle resources around to make sure people get rest and take care of things other than work.
Bonham: Crew chiefs get more attention from the media and the fans than ever before. Are you comfortable with the extra attention and how do you deal with it?
Rogers: That's the part I didn't sign up for. I accepted it when I signed on the dotted line but that's not why I did it. Everyone in this sport loves working on racecars. I love leading people. I love being someone that my guys can lean on and hopefully talk to. I love setting direction. That's in my nature. The media stuff, the interviews, the TV cameras—it's tough for me. I'd rather not see my face on TV. I'd rather not see my quotes written in the press. But it's part of the deal. The good part is I get to work on racecars. The bad part is every now and then there's a spotlight shining on me. But in the end, it's worth it.
Read about the history of the faith movement within NASCAR. Pick up a copy of Faith in the Fast Lane featuring stories and commentary from Richard Petty, Darrell Waltrip, Bobby Labonte, Ned Jarrett, Bobby Allison, Matt Kenseth and many more racing personalities.