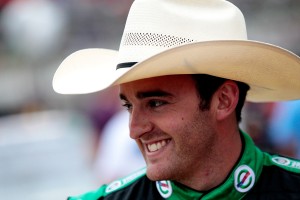 He might be barely into his mid-20s, but Sprint Cup driver Austin Dillon has already found himself smack dab in the middle of NASCAR's brightest spotlight. You could say Dillon was born to be a driver. His grandfather is legendary team owner Richard Childress and his father Mike Dillon is the general manager at Richard Childress Racing (RCR). Plus, his younger brother Ty is one of the sport's rising stars.
But the heat was really turned up in 2014 when Dillon put the iconic #3 car back into the Cup Series for the first time since its Hall of Fame driver Dale Earnhardt Sr., was tragically killed during the 2001 Daytona 500. Although Dillon won the Nationwide (now Xfinity) Series championship in 2013, nothing could compare to being linked to NASCAR royalty in such a visible way.
In this Inspiring Athletes interview, Dillon talks about how he's handled the pressure, what it's like racing against his younger brother, why Motor Racing Outreach is so important to his spiritual life, and how his Christian faith guides him:
Chad Bonham: Have you ever felt a heavy sense of responsibility or pressure while bringing the iconic #3 car back to the track?
Austin Dillon: There's definitely a sense of responsibility and it's something I take very seriously. It's an honor. There's pressure, but that's a good thing and something I feel very fortunate to have. I take great responsibility for it. Not every number gives you pressure. This number, the No. 3, means so much. It pushes me to be better, to go to the gym, to talk to my crew chief Gil Martin, and to be with the guys on the team every day. The number pushes me and that's a good thing.
Bonham: Do you feel like you've been able to manage expectations from the fans, RCR and yourself?
Dillon: I think so. When it comes down to it you have to be true to yourself and the rest falls into place.
Bonham: What has been the most memorable moment thus far since making the move to Sprint Cup?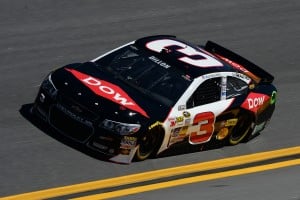 Dillon: I think it would be the start of my rookie season when there was so much pressure, so many expectations, and so much excitement surrounding the return of the No. 3 to the NASCAR Sprint Cup Series, and then we went out and won the pole for the Daytona 500. That was a very special moment.
Bonham: How did you first meet (RCR crew member) Ray Wright and how has that friendship benefited you personally and professionally?
Dillon: I met Ray Wright at Forsyth Country Day School. He was so inspirational to me and all of the guys on the soccer team. He was able to really push me to meet my fitness goals. My dad recognized that Ray had a unique ability of being able to motivate people and convinced him to come work at RCR in our pit department where he works with Paul Menard's team.
Bonham: How does faith play into your life both on and off the racetrack?
Dillon: Faith is huge and I am a proud Christian. I think it would be difficult to have a career like the one we have without having faith.
Bonham: What is the significance of having an organization like MRO around throughout the race weekends?
Dillon: Motor Racing Outreach is great. They provide a chapel service every Sunday for drivers, wives, crew members, and others in the NASCAR industry so that we can gather and celebrate our faith. It's important to me to have this time before the race on Sundays. They also provide other services such as at-track childcare and counseling.
Bonham: In those times when you've raced against your brother Ty, has it been easy or difficult to separate yourself from that relationship and race him hard just like any other driver?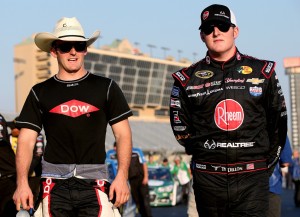 Dillon: Ty and I are extremely competitive. We don't go soft on each other. We push each other, which ultimately helps us both. We race against each other in everything we do, whether it's a foot race to the car when we go out to a restaurant at night or on the racetrack. It's in the back of my mind that he's on the track with me, but we're both competitive and want to win.
Bonham: Are there any older drivers in the Sprint Cup series that have been mentors to you during the early stages of your career? If so, what kind of advice have you received from them?
Dillon: I lean on a lot of drivers. I have a dirt racing background so I gravitate towards asking for advice from drivers who also dirt race, people like Clint Bowyer since dirt racers seem to have a similar driving style and like the car set up similarly.
Bonham: If you weren't racing, what do you think you would be doing right now?
Dillon: I would own a ranch where people could come and hunt. It would be fun and laid back every day.
To follow Austin Dillon throughout the NASCAR season, visit his race team's official website at www.rcrracing.com.
And pick up a copy of Faith in the Fast Lane: How NASCAR Found Jesus to read about how the Christian faith became so prevalent within the sport.