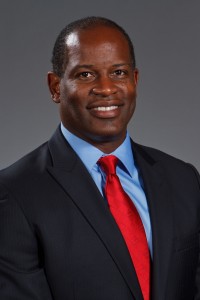 Turner Gill has seen just about everything in his days as a top-rated college quarterback and his experiences as a coach at various levels. At Nebraska, he led the Cornhuskers to three Big Eight championships but painfully fell short of a national title. Back at Nebraska as an assistant, he celebrated with legendary head coach Tom Osborne during three championship seasons. And then, he stepped out on his with mixed results—an impressive turnaround at Buffalo University, a disappointing tenure at Kansas University and his current Football Championship Series (FCS) playoff run at Liberty University.
But not much have that has mattered nearly as much as a decision he made nearly 30 years ago while playing in the Canadian Football League for the Montreal Alouettes. That decision to follow Jesus has changed his perspective on winning and losing and everything in between.
In this Inspiring Athletes interview, Gill talks about the glory days at Nebraska, how he deals with the ups and downs of the coaching profession, and the job that will always take first priority in his life:
Chad Bonham: Many were surprised when you chose Nebraska over Oklahoma and Texas. So how did you get from Fort Worth to Lincoln?
Turner Gill: There's no question God has His hands on (the decision). Tom Osborne was the main reason I chose to come to Nebraska. Had he not been there, I would not have chosen that school. It was because of his genuineness, his trustworthiness and his intelligence. I knew he was going to make me a better man. That was the number one thing that I was looking for. And no doubt, I knew he was going to develop me into the player and the quarterback that I wanted to be and needed to be at that time.
Bonham: What was the first thing that caught your attention when you arrived on campus that first year?
Gill: There were lots and lots of players. We had a freshman team and there were over a hundred players and there were another hundred players on the varsity team. There were two hundred or so players at Nebraska ready to play some football. That was a wow factor. I came from a big high school but we didn't have that many players. So that was the first thing that struck me.
Bonham: Talk about the high expectations surrounding Nebraska football as you headed into your senior season.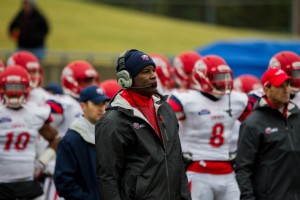 Gill: Right after my junior season, I had to decide if I was going to play professional baseball or stay for my senior year. I decided against it because I knew we had a great opportunity to go undefeated and win it all. That was all we talked about on that team. We wanted to be the national champions and I wanted to be a part of that. But I wanted it more for Tom Osborne than I wanted it for myself or for my teammates.
Bonham: Coach Osborne famously went for the two-point conversion at the end of the Orange Bowl against Miami, which was essentially for the National Championship.
Gill: To this day, I'm still glad that he went for two points. I called timeout myself and had a discussion with him about going for two. We wanted to go undefeated. That was our goal. We didn't want to go 12-0-1. We wanted to be 13-0. That was our mentality. Obviously we came inches short. It was a great game for college football. That wasn't just a defining game for the University of Miami and Nebraska. I think it brought more attention to college football.
Bonham: You didn't accept Christ until after your college days were over. Talk about what happened in December of 1985.
Gill: I had a dream to play either professional football or baseball. I had the opportunity play football in Canada and have all the money and the fame and the glory, but something was missing. I just couldn't figure it out. I'd reached my dream. I'd reached the pinnacle of what I wanted as a young man. I had it all and I still didn't feel satisfied. One of my teammates on that team in Montreal was Todd Brown. We also played together at Nebraska. I had always admired him and how he went about his business, but I didn't know what he was all about. One day we sat down and talked about how I was feeling. That's when he shared the Gospel with me. He told me that I needed to accept the Lord Jesus Christ as my personal savior and follow Him everyday. He told me that, just like my playbook, I needed to study the Bible to prepare myself for life. That day, I accepted Christ as my Savior.
Bonham: When you won three national titles as an assistant at Nebraska, do you think your faith allowed to better handle the success?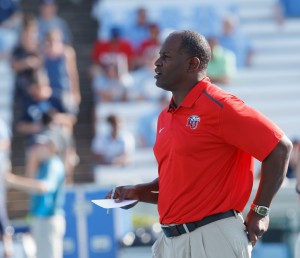 Gill: Absolutely. I actually thank God that it happened while I was a believer. There's no question the dynamic would have been different if I had achieved that award as a player when I was a nonbeliever. I don't know how I would have responded. As an assistant coach, I was able to realize that it was great in that moment but it was also temporary. Everyone loses sight of that. It's a temporary thing. It's from a worldly standpoint. That's why I'm glad I was a believer when we won those championships. I could understand it a lot better and now, even as I talk about it, I talk about it in a different way. The experience has helped me bring other people to Christ and helped me keep things in the right perspective.
Bonham: You've had some interesting coaching experiences from your time as an assistant at Nebraska and your success at Buffalo to some tough years at Kansas. How do you handle the ups and downs of this profession?
Gill: I'm a follower of Christ. When things were looking bad at Kansas, God was with me in all those times. The Holy Spirit was with me. I thank God for allowing me to go through those things because it helped me to grow and get closer to Him. You might have some obstacles in the world but God has allowed those obstacles to be placed there so you can become more intimate with Him and find out if you really trust Him. Are you going to follow Him or are you not going to follow Him? I think that situation really helped me grow closer to the Lord, to my wife and to the people who are most important to me.
Bonham: You really seem to be enjoying your time at Liberty University.
Gill: It's been a great experience. I'm here to glorify God. I'm here to do the best I can do according to the strength and ability that God has given me. I'm also here to help others get to know Christ as their personal Lord and Savior. That's the ultimate thing that God wants all of us to do. Therefore, if there are wins and losses, that doesn't define me. I've always tried to keep things in that perspective and do what Jesus wants me to do. There's a high calling. That's the big picture.
Read more from Turner Gill in the book Husker Legacy (Cross Training Publishing). The book also features past Nebraska players such as Trev Alberts, Josh Brown, Eric Hagg, Roy Helu Jr., Chris Kelsay and Mike Minter, as well as legendary former head coach Tom Osborne and long-time assistant coach Ron Brown.