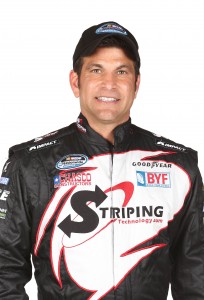 It doesn't matter if it's the Camping World Truck Series, the Nationwide Series or the Sprint Cup Series. All NASCAR driver David Starr cares about is getting behind the wheel and doing what he's loves best—racing.
Starr has spent most of 16-year career in the Truck Series where he has won four races and collected 117 top-10 finishes. He currently competes in the Nationwide Series for TriStar Motorsports in the #44 and #10 cars. But it was a conversation with Interstate Batteries president Norm Miller that led him to his greatest victory.
In this Inspiring Athletes interview, Starr talks about the family-friendly nature of NASCAR, how one question changed his life and why passion and purpose are starting to look more alike every day:
Chad Bonham: Just like a lot of people in the NASCAR community, family seems to be a very important part of your life.

David Starr: It really is. This is such a great sport. There's so much excitement with the competition on racetrack. The sport has really grown over the years. But one thing about the whole industry is it's definitely a family-oriented sport. Most of the drivers have wives and kids. The sport really brings families together. I meet people all the time who come to races with their parents, their kids, their aunts and uncles. They camp out at the races. It's a common bond for a lot of families out there. I'm very blessed and very honored to a part of this sport.
Bonham: I first heard your testimony as part of an "I Am Second" video piece. Tell me about how Norm Miller helped lead you into a relationship with Christ.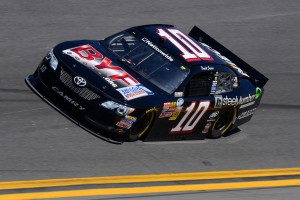 Starr: We grew up in a Catholic church. I come from a family that had a strong faith in God. But I was just like any other typical kid. I got into fights. I got mad. I was competitive. And for a long time, I've just been a kid trying to grow up. When you enter adulthood and you get married and God has blessed you with the talent to be in this sport, it makes you start looking at things differently. Norm approached me years ago and asked me how my relationship was with God. I was like, "Man, that's kind of a strange question." I told them that I grew up going to church but he wanted to know if I was personally connected to God. I started trying to understand and we prayed together and I accepted Jesus into my life. From then, I've tried to live by His Word and tried to do more Bible study and live like Jesus would want me to live. I'm not one that goes out there and tells a lot of people about my faith. If people ask, I'll tell them about it. But I'm a normal person. I make mistakes. I've gotten in some fights after some races. I've very competitive. So when I tell people that I have a personal relationship with God, they're shocked sometimes. But just because I'm a Christian doesn't mean I'm not a competitor. That doesn't change anything. But the Lord has blessed me so much. You have to keep things in perspective. Sometimes we can get lost in what we're doing here with the TV exposure and the sponsors, but we have church every weekend at the track and it's important to have that quality time with the Lord and learn more about His message. Years ago, I used to be all wrapped up in what I do and how I make a living, but now I try to put the Lord first and let everything fall into place after that.
Bonham: There seems to be a wide variety of faith expression in the NASCAR garage from the young group coming up to an older driver like Morgan Shepherd and even in how some are more vocal while others tend to quietly lead by example. How does that make the NASCAR experience unique?
Starr: With Blake Koch and Trevor Bayne and Michael McDowell, you have some guys that are very vocal about their faith. I think that's wonderful. Everybody is different with that. The Lord wants us to spread His spread. Some are comfortable with that and some aren't. I've personally lived by His Word and had a personal relationship with him, but I don't go around and talk to people about their faith. But I think it's wonderful to have drivers like Morgan Shepherd and these younger guys getting the Word out there. It is very diverse. When they do that, I sometimes look at myself and wonder why I haven't been more vocal. But at the end of the day, all that really matters is that you have a personal relationship with Christ. If someone wants to talk about things or if they're struggle, I'll be the first one to go to them and talk to them and pray for them. God is the one who can heal and fix things and guide you in the right direction. So I'm glad that we have a diverse environment. I'm glad for the ones that are putting their faith out there. We have a big audience and it's wonderful that they take advantage of that platform.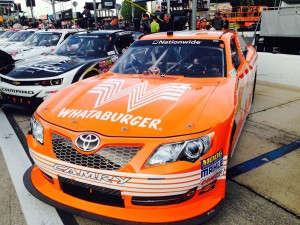 Bonham: Do you look at racing as your passion or is there also a sense of purpose that keeps you in the sport even when things might get tough?
Starr: That's a great question. There are a lot of wonderful people out here. You've got to have sponsors. You've got to bring money to the team. It's different than when I first started 16 years ago. I feel like the good Lord has blessed me. I feel like He's trying to use me to spread His Word. I've wanted to do this since I was a little boy. Ever since I can remember, this is all I've ever thought about doing. But God has put me here for a reason.
Bonham: So how do you deal with the uncertainties that come each year?
Starr: You never know sometimes what you're going to do from season to season. But at the end of the day it's in the Lord's hands. He wants me to do what He wants me to do. Norm has taught me that. You put it all in God's hands and He'll put you where He wants you to be. I pray about it. Sometimes I think they're selfish prayers. But I want to continue to do this. It obviously takes a lot of money to do it and God has blessed me with a lot of great people in my racing career. I thank Him for those people and I ask Him to continue to let me do what I love to do. If there's a different direction He wants me to go, then I'll go that way and I'll praise Him for it. You put God first and everything else will fall in place. There was a long time in my life when I didn't put Him first. It was all about racing. As I've gotten older, my perspective has changed through having sons and a wife. None of this will matter when you're not here anymore. I want to win the final race. The final race is being in Heaven. I want to win every race, but more than anything I want to win the race of life. Because I have a relationship with the Lord, I know that I'm going spend eternity with Him when it's all said and done.
Read about the history of the faith movement within NASCAR. Pick up a copy of Faith in the Fast Lane featuring stories and commentary from Richard Petty, Darrell Waltrip, Bobby Labonte, Ned Jarrett, Bobby Allison, Matt Kenseth and many more racing personalities.