Michael McDowell has been quietly building confidence and a solid résumé over the past seven years. It hasn't been the easiest transition for the former open wheel racer and road course specialist, but his determination to make a permanent home in NASCAR and stronger desire to have a larger impact within the garage has driven him right to the edge of a significant breakthrough.
Earlier this year, Inspiring Athletes caught up with NASCAR Sprint Cup driver McDowell who talked about the group of Christian drivers that he leads, the unique spiritual makeup of the sport and the benefit of working for several Christian owners throughout his career:
Chad Bonham: As a group of young drivers trying to live for God within the context of the NASCAR garage, how does the larger group work together to help an individual who might be facing challenges?
Michael McDowell: Our relationships go way beyond the racetrack and the Bible study. We all do life together—especially me and Trevor and Blake and Josh and a handful of other guys. When Blake was going through some sponsorship issues, he was calling us and asking us what we thought about it. You just walk through those things with them and give them someone to lean on and give them good advice.
Bonham: What is the atmosphere like in the garage as a group of outspoken Christians?
McDowell: If you look at other places in the world, we've got it easy in NASCAR. There's no persecution here. We were having a Bible study in the RV lot and there were about 10 of us guys just walking around with our Bibles and no one cared what we were doing. There's always going to be trials but it's just how you get through them. God doesn't waste any of them. Every trial is an opportunity to upgrade your character. It's just part of our growth and part of who we are. God is good even when the circumstances aren't. God is still good.
Bonham: Has your journey through NASCAR been a little smoother because of your opportunity to drive for several Christian owners like Joe Gibbs, Phil Parsons and Randy MacDonald?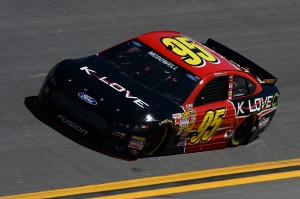 McDowell: Yeah, this is a really cool sport. For me, I'm not just trying to drive for Christian teams. That's not my goal. But it is nice. After 2008, I struggled in the Cup Series and it didn't work out for Michael Waltrip Racing. I was trying to figure out what I was going to do next. My commitment to living out my faith became intensified. Before 2009 started, my prayer was really, "God I don't know if you want me to be in racing or not, but whatever I do, it's going to be with a mindset of living out my faith and being outspoken about it." I've just been fortunate to work with people that are likeminded. But it's easy in this sport because there are a lot of people in this sport like that. It's definitely cool and you learn a lot from those experiences. You go from a team like Randy MacDonald's, which had no money, and then I get to go race for Joe Gibbs. I've had some success over there and I've had some great runs. I've come close to winning races a couple times. I'm very thankful for that opportunity. This sport is crazy. There are so many ups and downs. If your faith is determined by your circumstances, it's never going to work.
Michael McDowell wrote the forward to the 2014 book release Faith in the Fast Lane. Check that out along with the incredible story of "How NASCAR Found Jesus."
You can also keep up with Michael McDowell's career by visiting his official website HERE.