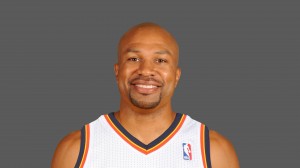 Derek Fisher has never been named to an NBA All-Star team or won any major individual awards. But he has still been one of the most valuable role players to take the court over the past 17 seasons. With five championships to his credit (all with the Los Angeles Lakers), the Oklahoma City Thunder point guard is just as known for his leadership in the locker room and his impeccable character and strong Christian faith.
Fisher's mettle was especially tested in 2007 when his 10-month old daughter Tatum was diagnosed with retinoblastoma, a form of eye cancer that typically affects children. Fisher was playing with the Utah Jazz at the time and famously left to attend her surgery in New York before rejoining the team in the middle of a crucial playoff game.
"He has his priorities in check," Oklahoma City head coach Scott Brooks says. "He does what's right for his family. I admire that. I appreciate what he brings to our team. He has a great family. He has a great work ethic. He's everything you want in a professional athlete. He represents the league very well."
Now seeking a sixth NBA title, Fisher is as driven as ever, but nonetheless content no matter how things play out in the twilight of his career. Brooks greatly appreciates Fisher's commitment to excellence and integrity in all phases of his life.
"He's as good of a leader as I've been around," Brooks says. "I joke about this all the time. He's going to be a running a Fortune 500 company. He just has leadership quality that you don't get overnight. You can tell that he was raised to be a leader. His parents did a great job with him. He brings to our team great leadership but he still brings a lot of great play and a lot of great toughness that our team needs. But I love the guy. I love what he's about. I love that he loves to play. He's been to a lot of NBA games and seen a lot of situations and won a lot of championships. But he still has a fire in his belly that burns every game. He's a very prideful player and he's someone that our players can definitely look up to and be guided in the right way.
After speaking to Brooks, Inspiring Athletes also caught up with Fisher who shared his thoughts on his role as a veteran, how adversity has made him stronger, and what it means to be a spiritual leader:
Chad Bonham: When you're in the role of team veteran, do you have specific things you're trying to share with your teammates or do you just rely on feel and timing?
Derek Fisher: I think it's more of a feel and respecting the fact that whether it's a team or an individual, certain experiences you have to experience on your own. It's not about somebody telling you everything what to expect or what to do or how to do it. I think we have smart enough, talented enough guys to figure a lot out on their own. For me, it's just having the feel that now might be the time to say something or now might be the time to take a particular action that just helps us as a group to collectively focus on a point.
Bonham: Coach Scott Brooks says you are going to run Fortune 500 company someday.
Fisher: That's humbling. I've been playing this game a long time. I've always thought of myself as more than a basketball player. I'll worry about that when the basketball part is done as far as what I do next.
Bonham: How did the adversity you faced with your daughter's health make you a stronger man?
Fisher: I think we're all shaped by our life experiences—the good and the bad. Every day, I'm working not to just be a better basketball player, but a better person. Adverse situations in life help that development. It's painful when it's going on, but you're for sure better for it after the fact.
Bonham: Do you have a better perspective now that you're a few years removed from that difficult time?
Fisher: When you're going through the storm, it's tough to see outside of it and around it. You think it's the worst thing in life that will ever happen to you until the next storm comes. You just have to try to keep things in perspective and remain positive in the face of adversity. That's what this team is all about now. In the face of adversity or in the face of a tough loss, how do you bounce back? How do you respond to it? Are you mentally strong enough to keep pushing even when people think you can't?
Bonham: Do you consider yourself a spiritual leader of this team?
Fisher: It's kind of always been part of my role with just about every team that I've been on—even when age wasn't a factor and I was one of the younger guys in the locker room. I still took that responsibility seriously in terms of being a leader and saying things that needed to be said and also doing the things that need to be done in terms of certain toughness and the way I approached the game on the court. It's both ways. It's not just being a spiritual leader or a locker room guy and saying certain things. It's also being an example in terms of how you approach the game and how hard you work every day and making sure people see how you approach this business.