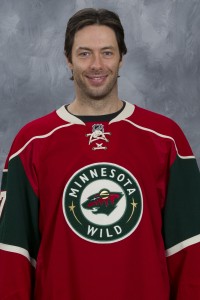 With the NHL Playoffs in full swing, Minnesota Wild center Matt Cullen is feeling right at home. In 16 seasons, Cullen has enjoyed several postseason runs including his 2006 sting with the Carolina Panthers that resulted in the city's only Stanley Cup championship.
In this Inspiring Athletes interview, Cullen talks about the Stanley Cup, his faith journey, the importance of facing fear, and how Christianity is becoming more prevalent within NHL locker rooms across the league:
Chad Bonham: What do you appreciate most about your experience winning the 2006 Stanley Cup?
Matt Cullen: We played game seven at home in Carolina and won on home ice. I had my whole family there. That was the ultimate right there. That was as good as it could ever get. My wife was pregnant with our first boy and my dad was on the ice after the game. My dad was so influential in my career. It was a fulfillment of every athlete's dream. I dreamed about it as a kid. We played hockey in the backyard. We had silver buckets we carried around like the Stanley Cup. It was everything that you would hope.
Bonham: Tell me about your faith journey.
Cullen: My mom was very spiritual. We were a Catholic family. We read the Bible at a young age. I have two brothers and a sister. We're all very close. That was part of our childhood. But when I went to college and then got drafted and played in Anaheim, it was a life changer for me. I was exposed to so many things. I was out on my own for the first time. Some of the older guys on the team invited me to their chapel services and that really helped me get my feet on the ground and reestablish my faith. Since then, it's been second nature. I go to chapel at the rink and we go to church as a family. My faith has been with me through my whole career and without it I don't know where I'd be.
Bonham: When you contributed to the FCA Hockey New Testament, you talked about courage and fighting fear. What has the Bible taught you about those concepts?
Cullen: So often in the Bible we see the words "Do not fear" or "Do not be afraid." When we give in to fear, it's because we're not trusting God. What are we afraid of? Everything is out of our hands anyway. It's a matter of doing what you're guided to do and trusting that it's the right thing. Courageous people do that regardless of what others think or say. The people that follow through on God's will are the people that trust Him.
Bonham: Are there any Bible stories that have personally inspired you along those lines?
Cullen: The first thing that jumps out in my mind is David versus Goliath. That's one of the first stories we ever learn as kids. That's one of the most inspirational stories about courage. David stood in the face of terrible odds and defeated the giant. I love reading that story to my boys. Being courageous is doing something isn't easy or fun but you do it because it's the right thing to do.
Of course, Jesus was the most courageous man who ever lived. He prayed and asked God to take the cup from Him before He went to the cross, but He still went because He knew that's what He was supposed to do.
Bonham: Has fear ever caused you problems during your career and if so, how did your relationship with God help you get through that situation?
Cullen: The 2006 playoffs were such a rollercoaster for me. I was able to lean on God and know that no matter what things were going to work out the way they were meant to work out. I had that trust that allowed me to go into the games without fear. When I prayed before games, I was able to just let it go. When I played in game seven of the Stanley Cup Finals, I prayed more that day than I have my whole life. That was a day that I leaned on the Lord a lot. It helped me to face some of my fears. I was nervous going into that situation. It was everything I had worked for and dreamed about as a professional athlete. Having that courage and trust made a big difference and put me at ease knowing that somebody was with me. It was just a fun feeling going into the game and being able to trust that it was in good hands. I just played free without any fear or doubt. It was the most fun I've ever had playing which is funny because it was supposed to be the most pressure packed game I've ever played in.
Bonham: Where have you had to fight against fear in your personal life?
Cullen: When our third boy was born, I had been traded to Ottawa and we were playing in the playoffs at Pittsburgh. My wife Bridget went to the hospital during game two of the series and had our boy Joey. I couldn't get home that night. He had problems with his lungs. That was a time when I leaned on my faith. I was praying about making sure Joey would make it through each day. Eventually he was fine, but I was very nervous and scared about the situation early on.
Bonham: What would you say to other athletes and coaches that might be dealing with fear?
Cullen: First and foremost, prayer is so helpful. But I think that you need to face your fears head on. Don't avoid them or say that you're not scared. Acknowledge it and be honest about it. It's normal to get nervous about a big game or to get nervous about an important event in your life. Everyone is going to be afraid sometimes. Then you ask yourself, "What am I really afraid of?" Then you can address it, because there's nothing to be afraid of. It helps a lot when you just face it and put it in perspective. It gives you that courage to fight through it. As an athlete, you can't be afraid to make a mistake. Courageous people are not afraid to fail. So often in life and in sports, we're afraid to fail. Instead, we should attack things with excitement and enthusiasm and think about the positives as opposed to the negatives.
Bonham: Are you seeing a shift in the NHL culture as it pertains to faith expression?
Cullen: Yes I am. But I think it's a testament to what FCA is doing and Hockey Ministries. So many of the young kids are coming in and they're established in their faith. It's impressive. Cam Ward and Eric Staal, for example, were young guys coming into Carolina. Those guys are stars and it's big to have those players that everyone in the locker room looks up to. It's inspirational. These young kids come in with so much confidence in their faith and they're not afraid or embarrassed or shy about it. All of the chapel services are getting younger and younger. So it has changed and it's definitely growing.
Bonham: Are the misconceptions about Christian athletes starting to fade in the NHL?
Cullen: Christian guys had a reputation for being soft or not being tough enough to play the game. But every chapel we've had, our team fighter has been in there. Stu Grimson is very outspoken. Dan Bylsma, the head coach at Pittsburgh, was one guy that really helped me a lot. I can think of so many tough guys that by definition it's their job to be tough and they're all in chapel. That's such a misconception and it's kind of gone out the window. Guys feel more comfortable going to chapel. I remember when I first started, guys were nervous about it and it was kind of a secret. There was still that stigma that came with it, but it's definitely been removed and (the faith movement) is definitely growing.
Matt Cullen is one of several current and former NHL players to be featured in a new FCA Hockey New Testament. Learn more about this resource by visiting the organization's official website HERE.