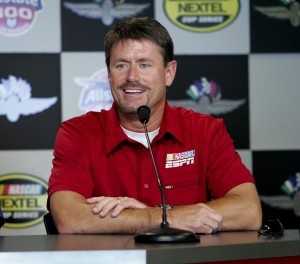 Andy Petree has experienced NASCAR at just about every level—as a driver, crewmember, crew chief, car owner and most recently as an analyst for ESPN. Some might find it strange that he walked away from one of the greatest race teams in stockcar racing history, but as Petree explains in this Inspiring Athletes interview, it was one of the best decisions he's ever made:
Chad Bonham: How did you first get involved in stockcar racing?
Andy Petree: I started at the very bottom of the sport. When Dale Jarrett and I started racing together, I was still in high school. I didn't have any money. You wouldn't believe how broke we were back then. We were really poor. We had to beg and borrow everything just to do the first car, which wasn't much. It was just a little Lucas sportsman car. I got a few breaks, but it was a challenge just to get into the sport. I really wanted to get in the sport in a bad way and Ned really opened the door for me to get in. I'll forever be grateful to him for that. From then on, it was trying to make it and trying to move up. I was a crewmember for a few years and then I finally got the chance to be a crew chief. You talk about jumping out of the frying pan into the fire. That was even more of a challenge. But I had an appetite for success. I didn't just want to do it. I'm a very competitive person. Once I became a crew chief, I really wanted to win as a crew chief.
Bonham: You had the unique experience of winning two championships with Dale Earnhardt. What can you tell people about him that they might not have known?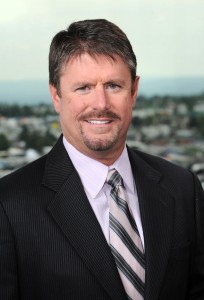 Petree: I was really close friends with Dale even after I left. My wife and I spent some time with him and his wife Teresa on vacations. We spent some quality time away from everything. He was totally different. I got a kick out of seeing that other side of him. He was a great father. His daughter Taylor was young at the time. He'd run out into the surf and pull her around on a little raft. He did these things you'd never think the intimidator would ever do. He was such a great host. He always wanted to make sure we had everything we needed. He was a very caring person. A lot of people never saw that.
Bonham: How long have you been a Christian?
Petree: I've been a Christian my whole life. I was raised in church. But you get in that garage area and you get so focused on these goals. It really pulls you away from church. We had MRO and it was a big part of our life and I thank God for them. But that lifestyle is so hard. When I was retired, those were the best two years of my life. I really turned my life around. It changed me. I got out of that pressure cooker and I didn't realize how bad of a guy I was. I was just at peace. I had been trying so hard to figure out how I was going to stay in the sport. Then I finally figured out it wasn't God's will for me to be doing it anymore. I was bucking up against that and finally I got it.
Bonham: Was going back to NASCAR as an analyst for ESPN an easy or difficult decision?
Petree: I did a lot of soul searching on that one. I didn't need a job. I had structured my life in a way that I could position myself to not have to work. But it's an opportunity that doesn't come around all the time and I still loved the sport. It was a way to get back in it and not get put back in the pressure cooker of the garage area. I didn't want to go back there.
Bonham: What do you think about the outspoken nature of a young Christian driver like Trevor Bayne?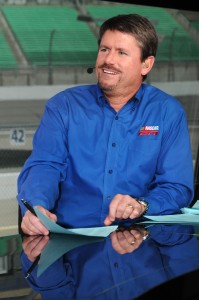 Petree: Trevor Bayne is such a good guy. I love him. And when he got up and did the invocation (at the October 15, 2011 race), that was awesome. He's such a role model for these other guys coming along.
Bonham: Are you surprised that NASCAR has been able to resist political correctness and stayed firm on its support of public expressions of faith?
Petree: I'm not surprised at all. I've never thought about it any other way. I know (NASCAR president) Mike (Helton) for a long time. I've known the leadership. It's never surprised me. I think they're just stronger than that. They're not going to cave to any of that (political correctness). I think they're going to stand strong. I've never doubted them.
This conversation is one of over 50 interviews conducted for an upcoming Judson Press book called Faith in the Fast Lane set to release in January of 2014. This book chronicles NASCAR's rich faith story and include additional commentary from legendary drivers such as Richard Petty, Bobby Allison, Ned Jarrett, Darrell Waltrip and Phil Parsons, as well as current drivers including Trevor Bayne, Ricky Stenhouse Jr., Sam Hornish Jr., Mark Martin, Bobby Labonte, Casey Mears, David Ragan, Matt Kenseth, Michael McDowell, Morgan Shepherd, David Reutimann, Joe Nemechek and Justin Allgaier.