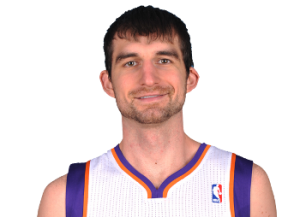 When the 2013-14 NBA season rolls around, there's a very good chance that the Zeller brothers will make league history. That's because youngest brother Cody, although just a sophomore at Indiana, is considered to be good enough to be selected in the 2013 NBA Draft.
So whether next season or the season after, he will likely join his older siblings Tyler and Luke in the pro ranks. That would make them just the third trio of brothers to play in the NBA at the same time, along with the Jones brothers (Major, Charles and Caldwell) from the 70s and 80s, and the more recent Barry brothers (Jon, Brent and Drew) who played simultaneously from 1998 to 2000.
Inspiring Athletes recently had a chance to catch up with the Luke Zeller, the oldest brother, before one of his games with the Phoenix Suns. In that conversation, he talked about his unique relationship with his brothers, why it's important to share his faith publicly and how he tries to follow God's lead:
Chad Bonham: Tell me about you and your brothers' upbringing.
Luke Zeller: We grew up playing and now we're just playing at a higher level. We grew up the right way and our parents taught us to do the right thing off and on the court. Faith has been a huge foundation for all of that. Mom and dad started us off right.
Bonham: How much are you able to keep up with your brothers' careers?
Zeller: We talk about every day whether it's a text or a phone call. They were my best men at my wedding and they're two of my best friends. It makes a big difference when they're not just your brothers.
Bonham: How important is it for you to use this platform to share your faith and your personal experiences?
Zeller: When God's first in your life and your family's second, the perspective is that the platform as player is for the purpose of lifting up His name and glorifying Him in all you do. No matter what the platform is, that's the goal and that's the prayer before tonight's game and before every game.
Bonham: How do you harness your expectations and make sure you don't get ahead of God's plan for your life?
Zeller: I'm not great at that. I'm not trying to say I've got it all figured out. But I'm trying to figure out what God's plan is for me and where my plans fit. One of my old high school friends used to tell me, "If you want to make God laugh, tell Him your dreams." God's dreams might be bigger and better and something completely unexpected. So I just try to follow what He's go day in and day out. I'm here to live for Him no matter what that looks like or where I might be.
Bonham: How important as FCA been to you throughout your athletic career?
Zeller: FCA has been huge for me. My family also started our own organization called "Distinxion" and we do camps and share our faith through that. We work closely with FCA and a lot of the small groups around Indiana and across the country.
Bonham: Is it encouraging when you see more NBA players starting to take their faith into the public square?
Zeller: Definitely. There's a community of believers in the league and there's definitely a growing sense of that. Everybody has a personal decision to make but hopefully my actions speak louder than words. Hopefully that's my testimony day in and day out.
To learn more about the Zeller's ministry organization Distinxion, check out the official website HERE.