If you're an Olympics junkie like me, you'll probably be spending the next 17 days (July 27 – August 12) watching wall-to-wall coverage from London on NBC and its various affiliate cable outlets. And while there's plenty of opportunity to root for the athletes in the red, white and blue, there are also a number of Olympians that have something else in common—a shared faith in Christ.
While I'd don't pretend to know about every single Christian athlete competing this year, I do have a pretty good list of names that will give fellow believers a little extra something to cheer about. And when applicable, check out the links to previously posted Inspiring Athletes interviews with several Olympians including Brady Ellison, Ryan Hall, Jesse Williams, Dawn Harper, Kevin Durant, Tamika Catchings, Missy Franklin and Brittany Viola.
ARCHERY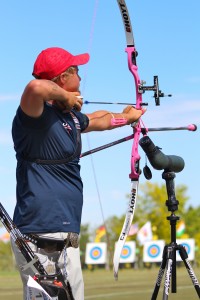 Brady Ellison is making his second appearance at the Olympic Games. For the Arizona native, pulling back the string and aiming at a target roughly 75 yards away can be as peaceful as bow hunting in the great outdoors. And even though he's a favorite to win a medal in London, Ellison isn't stressing out over the added pressure of high expectations.
"Once I put winning in God's hands, I stopped worrying about that," he says. "I just went to tournaments and shot with no fear, doing only the best I can do and leaving the rest up to God."
Read more in this conversation with Brady Ellison
ATHLETICS (Men's)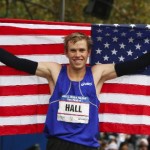 Ryan Hall (Marathon) hopes to improve on his 10th place finish at the Beijing Games back in 2008. It might be hard to believe, but Hall, who utilizes endurance while competing in the marathon, almost gave up on his Olympic dream. But instead, he discovered a renewed sense of purpose and relied on his faith in God to push him through the hard times.
"I knew from day one, because God told me this, that I was going to one day run with the best runners in the world and I would be given this gift to help other people," Hall says. "Today, I am finally starting to walk in fulfillment of this dream but it wasn't easy getting here. There were a lot of times along the way that I felt like quitting but I knew I hadn't yet accomplished what God told me I was going to do so I had to keep going."
Read more in this conversation with Ryan Hall
Meb Keflezighi (Marathon) and Lopez Lomong (5000m) are two of the more fascinating stories to emerge from the 2012 Olympic Games. Keflezighi was born in Eritrea and escaped with his family when the country fell into war-torn chaos. Lomong came to the United States after spending years in Kenya as one of Sudan's "Lost Boys." Both are now naturalized citizens and they share not only an inspiring past, but they both embrace a strong faith in Christ as well.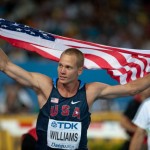 Jesse Williams (High Jump) doesn't remember too much about his first Olympic encounter. After all, he was only a few months old at the time. But eight years later, the world-class high jumper caught the fever while watching the 1992 Games in Barcelona. Thankfully for American track and field fans, the elite high jumper was never cured of that infectious desire.
"I live my life through God and I'm not worried about what will happen in London," Williams says. "I have to work hard everyday and prepare myself to the best of my ability to get on top of the medal stand in London. If this is not God's plan then I will know that I have given it my all. I know that I have the ability to win in London and it would be a great honor if my Olympic game dream were to come true."
Read more in this conversation with Jesse Williams
Others to watch: Tyson Gay (100m), Jamie Nieto (High Jump), Jeff Porter (110m Hurdles), Jason Richardson (110m Hurdles)
ATHLETICS (Women's)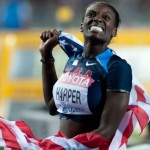 Dawn Harper (100m Hurdles) grew up in a rough East Saint Louis neighborhood, so she knows something about overcoming the odds. But her natural leaping ability and speed put her on the proverbial fast track to follow in the footsteps of another hometown hero—Jackie Joyner-Kersee. While not many expected much from her in Beijing four years ago, Harper again defied the odds with a gold medal performance in the 100-meter hurdles. Now she heads to London as a favorite to reach the podium again.
"(God) knew that I could handle this—the knee surgery and all of the things that come with being an Olympic champion," Harper says. "He took the girl that no one thought would win. He chose me. He entrusted me with this."
Read more in this conversation with Dawn Harper
Others to watch: Tia Brooks (Shot Put), Stephanie Brown-Trafton (Discus Throw), Jillian Camarena-Williams (Shot Put), Lashinda Demus (400m Hurdles), Allyson Felix (100m, 200m), Hyleas Fountain (Heptathlon), Carmelita Jeter (100m, 200m), Lolo Jones (100 meter Hurdles), Chaunte Low (High Jump), Sandra Richards-Ross (200m, 400m), Jenny Simpson (1500m), Kellie Wells (100m Hurdles)
BASKETBALL (Men's)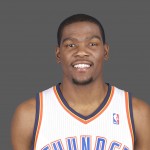 Kevin Durant has enjoyed a meteoric rise to NBA stardom these past few seasons and he might have to pinch himself as a reminder to remain humble. Onlookers might need to do the same when observing such a talented young man resisting the immense temptation to be like so many of his peers and cave to that natural inclination towards self-serving behavior.
"I've just got to be thankful to the Lord for what the gifts He's given me," Durant says. "My gift back to Him is to always be humble and to always try to work as hard as I can."
Read more in this conversation with Kevin Durant
Others to watch: Chris Paul
BASKETBALL (Women's)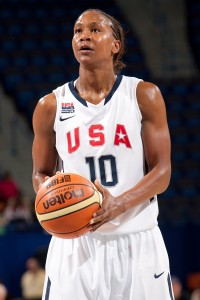 Tamika Catchings is the reigning WNBA MVP and a two time Olympic gold medalist. So there's not much more for her to prove. Catchings is clearly one of the greatest female basketball stars to play the game. But when she returns to the world's largest stage, she'll bring with her a personal story of overcoming adversity thanks to her unshakeable faith in the Lord.
"God has taught me about patience and about accepting myself for who I am and knowing that He formed me and made me unique," Catchings says. "He made everyone uniquely wonderful."
Read more in this conversation with Tamika Catchings
Others to watch: Swin Cash, Angel McCoughtry, Maya Moore, Jennifer Gillom (assistant coach)
DIVING (Men's)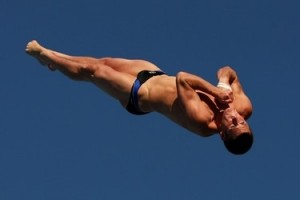 David Boudia (10m platform, 10m platform synchro) qualified for his first international diving competition at the age of 15 and hasn't looked back since. But as a sophomore at Purdue, Boudia and found new meaning in his life thanks to the evangelistic efforts of his diving coach Adam Soldati. Now in London for his second Olympic Games, Boudia wants to win that elusive medal, but his passion is now driven by something completely different.
"It probably wasn't until about a year ago when I started to understand my purpose," he says. "I started reading scriptures about what it meant to live for God's glory…It's totally freeing when I stay in tune with scripture. I don't have to worry if I miss a dive. I go into competition and it's like, "Praise God no matter what." If I do well, that's awesome. I praise Him. If I don't do well, praise Him even more. Competition looks way different now."
Read more in this conversation with David Boudia
Others to watch: Troy Dumais (3m springboard, 3m springboard synchro), Adam Soldati (coach)

DIVING (Women's)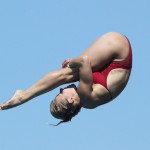 Brittany Viola (10m platform) has learned much about athletic excellence thanks in great part to her close relationship with father Frank Viola, a former Minnesota Twins pitcher and World Series MVP. But the 2012 Olympic diving hopeful says it was a serious battle with bulimia six years ago that deepened her relationship with God.
"(God's) forgiveness helped me to forgive myself," Viola says. "His truth allowed me to replace the many lies in my head. He saw me as fearfully and wonderfully made, His perfect creation, chosen, holy, and dearly loved."
Read more in this conversation with Brittany Viola
Others to watch: Christina Loukas (3m springboard)
GYMNASTICS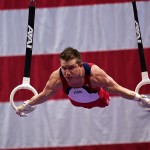 Jonathan Horton (Men's Artistic) is a steady force within the international gymnastics community. Horton has collected seven gold medals at the U.S. National Championships, three gold medals at the World Cup and he brought home a silver and bronze medal from Beijing after his first appearance in the Summer Olympics. But this year in London, Horton is equally committed to letting his light shine for Christ.
"I pray every night…that he takes the platform that he's given me and uses me, speaks through me—not only through my words but through my actions as an athlete," he says. "I just pray for opportunities and I know He'll speak to me and show me those opportunities where I'll be able to show my faith."
Read more in this conversation with Jonathan Horton
Others to watch: Gabby Douglas (Women's Artistic), John Orozco (Men's Artistic), Jordyn Wieber (Women's Artistic)
SOCCER (Women's)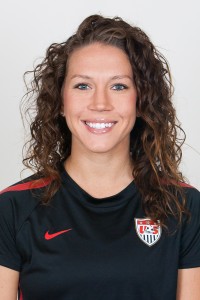 Lauren Cheney has experienced the indescribable high of 2008 Olympic gold, the devastating low of falling short at the 2011 World Cup and everything in between. That wide range of emotion has both tested and strengthened her relationship with God.
"I've learned to give God the praise in the highs and the lows," Cheney says. "That's not easy. It's not easy to lose the World Cup and say, 'Thank you Lord,' because it hurts and it doesn't feel good. But especially at such a high level, your life is a rollercoaster. Our lives are completely full of highs and lows. I'm so grateful that my confidence in Christ is never shaken. My identity in the Lord will never be shaken. My career will come and go but being faithful to that has made my relationship with Him what it is."
Read more in this conversation with Lauren Cheney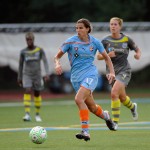 Tobin Heath may not have the historical name recognition of Mia Hamm or the star du jour status of Abby Wambach. But ask anyone in the know and they'll tell you that Heath is a significant contributor to the U.S. women's soccer team's recent success. As she prepares for her second Olympic appearance, she's excited about the opportunities to impact her teammates and the fans with a bold faith.
"It's not about that worldly outcome in terms of winning or losing," Heath says. "It's about (God) being known and not in a way that forces it upon other people but in a way that lets people know how He's transformed my life and how He's given me purpose and meaning and love and satisfaction. That's the message of Jesus. It's not a platform to impose on people. It's a platform to love people. Our God's going to be victorious. He's the Creator of the universe. I'm just a vessel trying to do my part with what I've been given."
Read more in this conversation with Tobin Heath
Others to watch: Alex Morgan, Heather O'Reilly, Christie Rampone
SWIMMING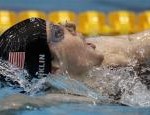 Missy Franklin (Women's 100m free, 200m free, 100m back, 200m back, 400m free relay, 800m free relay) can be legitimately described as a prodigy. U.S. Swimming's "next big thing" started swimming at the age of five and by the age of 16 had broken two short course world records. Now with her first Olympic appearance squarely within sight, the 17-year old natural is hopeful that a trip to London later this summer will be part of a bigger purpose she has recently discovered—to show the world what God has done in her life:
"God is always there for me," Franklin says. "I talk with Him before, during and after practice and competitions. I pray to Him for guidance. I thank Him for this talent He has given me and promise to be a positive role model for young athletes in all sports."
Read more in this conversation with Missy Franklin
Others to watch: Cullen Jones (Men's 50m free, 100m free, 400m free relay), Ariana Kukors (Women's 200m IM), Claire Donahue (Women's 100m butterfly, 400m medley relay)
TRIATHLON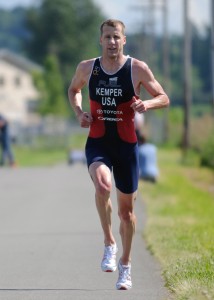 Hunter Kemper (Men's) trains like a mad man and puts his body through one of the most grueling competitions on the planet because it's a calling. The three-time Olympian is working towards his fourth and final appearances at the Games and wholeheartedly believes that he was meant to be a tri-athlete.
"(But) I have that peace because I know that triathlon doesn't ultimately define who I am as a person," Hunter adds. "Whether I win a gold medal or not, I get my character as a person from my Lord and Savior Jesus Christ. I resound in that and hold true to that. That's who I am. That's who I'll always be and therefore I can never be let down. You can never be let down if your faith is in the Lord."
Read more in this conversation with Hunter Kemper
Others to watch: Gwen Jorgensen (Women's)
WEIGHTLIFTING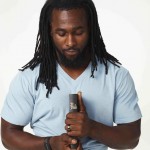 Kendrick Farris (Men's 85kg) had an epiphany—that moment in time when it all clicks and dreams come into crystal clear focus. He caught a glimpse of his future while clearing off tables in a restaurant. That was in 2004. Now eight years later and one Olympic appearance under his weightlifting belt, Farris is ready to step up and show the world where his strength comes from.
"I've truly humbled myself over the past couple of years and I've learned about the power we have as believers," he says. "Jesus said we would do greater works and I believe that. I don't get bent out of shape about everything that happens in life. I understand that there is a season and a time for everything."
Read more in this conversation with Kendrick Farris
Others to watch: Sarah Robles (Women's 75kg)
Follow all of the action at the Official NBC Olympics website and check out this list for even more Christian Olympians you can follow in London:
BOXING
Michael Hunter (Men's Super Heavyweight)
Queen Underwood (Women's Lightweight)

CYCLING
Dotsie Bausch (Women's Track)
Arielle Martin (Women's BMX)
JUDO
Kayla Harrison (Women's 78kg)

ROWING
Mary Whipple (Women's Eights)
TAEKWONDO
Diana Lopez (Women's 57kg)
Steven Lopez (Men's 80kg)

VOLLEYBALL
Reid Priddy (Men's Indoor)
Todd Rogers (Men's Beach)
WATER POLO
Tony Azevedo (Men's)
Betsey Armstrong (Women's)
WRESTLING
Jared Frayer (Men's 66kg)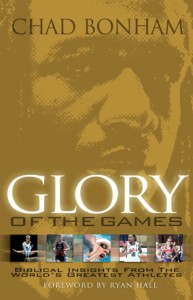 And check out Chad Bonham's latest book Glory of the Games that features 18 past and present Olympians such as Shannon Miller, Tamika Catchings, Josh Davis, Ryan Hall, Dave Johnson, Ruth Riley and Kevin Durant discussing various biblical principles that have helped them succeed as elite international athletes.