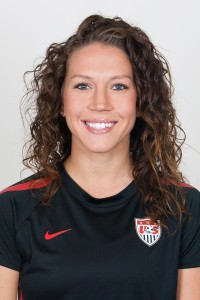 The Opening Ceremonies aren't until Friday, but women's soccer got started today at the Summer Olympics. In Glasgow, Scotland, the U.S. Women's Team kicked off its defense of the 2008 gold medal with a 4-2 victory against France. The Americans got off to a poor start and were quickly down 2-0 in the first half before tying things up heading into halftime. In the second half, however, Team USA scored a pair of unanswered goals and picked up three points in Group G.
Alex Morgan scored two goals to lead the Americans and the team also got solid play from Lauren Cheney who had two shots on goal and Tobin Heath whose sharp ball-handling skills were key as the U.S. put the game on ice. Read more from Cheney and Heath from these previous Inspiring Athletes interviews:
A conversation with Lauren Cheney
A conversation with Tobin Heath
Read more from Heath in Chad Bonham's book Glory of the Games which also features several other past and present Olympians including Shannon Miller, Tamika Catchings, Kevin Durant, Josh Davis, Dave Johnson and Ryan Hall.