Until 2008, only five American men had won the Olympic gold medal in the iconic decathlon event: Jim Thorpe (1912), Bob Mathias (1948 and 1952), Rafer Johnson (1960), Bruce Jenner (1976) and Dan O'Brien (1996). That all changed four years ago in Beijing when Bryan Clay added his name to that impressive list.
Clay had hoped to become just the second two-time gold medalist and the first to medal three times (Clay won silver in 2004) but unfortunately a poor performance in the 110-meter hurdles at the 2012 U.S. Olympic Trials was costly and ultimately knocked him out of the running for a third consecutive trip to the Olympic Games.
Clay's story is nonetheless impressive. It ironically took him several years of training and even some significant successes before realizing that his Olympic dream was even possible. In this Inspiring Athletes interview, Clay talks about that defining moment, how his unique upbringing brought faith into his life and how he balances his expectations with a healthy perspective of how God sees him:
Chad Bonham: When did you first realize that the Olympic dream was something that might be attainable?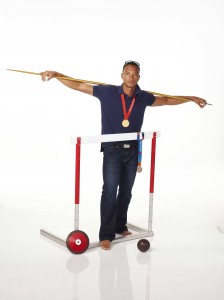 Bryan Clay: I didn't really know that I could be an Olympian until I qualified for the Olympics. You always set goals but for me it wasn't much different than a kid saying, "I want to be in the NFL." It was just a dream. You don't actually expect it to happen. I would say that I wanted to be an Olympian, but it was just a means to remain popular and cool. So even when I was competing at the U.S. championships in 2001, I finished in third place but there were a couple guys that were missing that could score higher than what I scored. Then I went back the next year and finished second. I scored a little higher but I felt like maybe I just gotten lucky again. The thought of making the Olympics still didn't make sense to me. Then in 2003, I scored a little bit higher but then I got injured. So I thought everything would have to go just right for me to make the Olympic team. Then in 2004, we knew there was the possibility I could make the team, but it wasn't a reality until I stepped onto the track for the first event of the year—which was the U.S. Championships—and I ended up winning the trials. That's when it was like, "Oh, I guess I can do this Olympics thing."
Bonham: How has your faith played a role in this Olympic journey?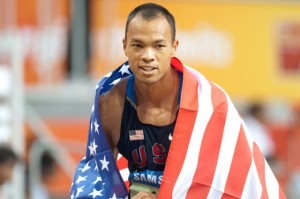 Clay: When I was a kid, my mom left. She became a Christian while she was gone and came back. That's sort of the shortened version. When she came back, she started making us go to church. I said the prayer numerous times in junior high and high school to ask Christ into my heart. Every time I went to church I'd say the prayer again because I didn't understand how God could be okay with the type of person that I was. I wasn't a good kid. So when I got to college, I got into trouble and continued to make bad decisions. My faith was through my parents, through my mom. It wasn't my own faith. I wasn't convicted by it. I didn't make decisions based on my faith. My beliefs in things like politics and what was right and wrong didn't match up with what my (Christian) faith would dictate. It was just what I thought was okay. So it was during my junior year that I hit rock bottom and I had some soul searching to do. I was at a crossroads and had to decide if I wanted to maintain this lifestyle I was living. When I looked down that path I was headed down, God gave me a clear vision of where it was leading and I didn't want to have anything to do with it, so I turned the opposite direction and ran the opposite way and I've been running that way ever since and things have been great.
My faith is my foundation. It's where I draw my strength. Without my faith, I think it would be very easy for me to have a family that's in disarray, to have my priorities out of order, to make decisions that could derail my path to success. But because I have this foundation of faith, I like to believe that it's my compass. It keeps me on the path that I want to be on. It keeps my family one of my priorities and it allows me to have balance in my life. It allows me to make good decisions that will bear good results. Without my faith, I think that I'd be lost and I don't think that I'd be as successful as I am today. Through my faith and through track, I've learned so many life lessons and learned so much about myself. My journey has been unbelievably fulfilling and now I get to take those lessons that I've learned and I get to talk to corporation and Boys and Girls Clubs and churches and teams and my kids. I get to share those things all over the world and with all different walks of life in the hopes that I might inspire them to be the best that they can be and so they can have true success in whatever it is they're doing.
Bonham: How do manage your own expectations and the world's expectations versus the reality that your identity isn't wrapped up in the results?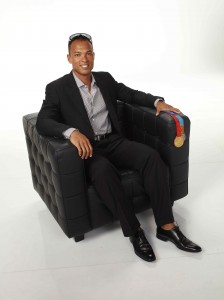 Clay: This has been a new learning process for me. Every four years has been a tremendous learning opportunity. One of the things that I've learned this year is that with athletes like Tim Tebow and Jeremy Lin, there's this whole question of, "Does God really care if you win?" There are people starving in Africa. Do you really think he cares if you win a football game? I've seen five people praying before a race and I might think, "Just let me be Your favorite today." That's not necessarily what God is concerned about. Does God care if you win a game or a race or a gold medal? I'm going to venture out and say, no, probably not. But what He does care about are the lessons you've learned along the way through the win or the loss. Whether you win or lose, I think God's number one goal for you is that you bring glory back to Him. If that means you have to lose for God to get the glory, then that's what's going to happen. If you have to win for God to get the glory, then that's what's going to happen. But that's what God is concerned with. He's concerned with the journey, with the lessons and the process of refining.
Bonham: How do you hope that your athletic success impacts others?
Clay: I just want His will to be done in my life. If it means winning another medal, then that's what I'm going to do. If it means not winning another medal, than that's what will happen. Either way, I'm going to be giving the glory to God. My ultimate desire is for God to be glorified. I want people to see God's faithfulness in my life and hopefully they'll be inspired. That's what I'm trying to do with my book. I'm not trying to beat anyone over the head with Bible and tell them that they're going to Hell if they don't accept Christ. My goal is to tell my story and hopefully people will see God's faithfulness through that and not be able to deny that there's a God. Ultimately I believe that what my medals are for. I like to call them my stones of remembrance. When I go around and show people my medals, people say, "How did you that? How do you manage a family and your foundation and the media and training six or seven hours a day? How do you manage that and still be successful? How is your wife okay with your being gone for weeks at a time and she's still happy and your kids are happy? How do you travel over a hundred thousand miles a year? How do you do it?" That presents the opportunity for me to talk about God's faithfulness in my life. I think that's what God is concerned about when it comes to sports and what we're trying to do as athletes.
Read more about the upcoming 2012 Summer Olympics in the July issue of Charisma Magazine.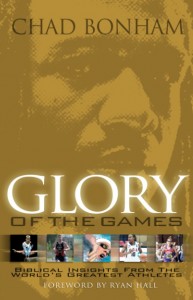 And check out Chad Bonham's latest book Glory of the Games that features 18 past and present Olympians such as Shannon Miller, Tamika Catchings, Josh Davis, Ryan Hall, Dave Johnson and Kevin Durant discussing various biblical principles that have helped them succeed as elite international athletes.