Heading into the 1992 Summer Olympics in Barcelona, Dave Johnson had a plan. After finishing ninth at the 1988 Games in Seoul, the decathlete continued to move up the ranks and was considered the odds on favorite to win gold. But then Dan O'Brien showed up and shook things up. Things only went crazier from there as injuries and unfulfilled expectations turned into an opportunity for Johnson' faith to shine like never before.
In this Inspiring Athletes interview, Johnson (now the athletic director at Corban University in Salem, Oregon) talks about the "Dan and Dave" phenomenon and how he dealt with the disappointment of falling short of his ultimate goal:
Chad Bonham: When Dan O'Brien hit the scene, you were the established guy and he was the hotshot newcomer. How did that change your dynamic as a competitor?

Dave Johnson: I rejoiced when Dan came around. At the time, he was working his way up and I knew that if he stayed healthy he was going to be one of the athletes who could easily score what I was scoring if not more. It was nice. It was local. It was in the United States. There was another person that was at my level or even above it if I didn't work hard. There were four or five people around the world including Dan that I had to shoot for. But ultimately what's neat about the decathlon is you're kind of against yourself. You have each event that you battle. You have a scale of points that you earn based on your personal performance in each event. Generally, you don't think too much about the other athletes out there. But when Dan burst onto the scene, it definitely made me keep an eye on him more.
Bonham: When Dan got injured and didn't make the 1992 Olympics, how did that impact your training and your expectations for Barcelona?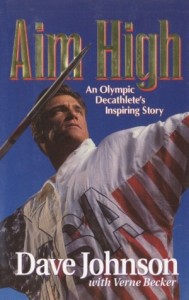 Johnson: The hype was based around both of us going to the Olympic games and then he doesn't make the team. I was going, "Great, why did that happen?" At the same time I'm limping off the field wondering what's wrong with my foot. For me, I was able to focus on the Lord and realize that He had a plan and I'm just there to show up and do the best I can through it. Part of me was saying, "Man, Lord, you messed this up." In my mind and what I know the world wanted to see would be completely different. But through the coaches at Azusa Pacific and my wife and training partners at a Christian, God-first kind of place, it got me back on track and helped me focus on what the Lord wanted the world to see, not what the world wanted to see. While all that was happening, I was distracted, I was upset. I was thinking there was another way. But before the Dan and Dave hype, it was all about the Lord and during the Dan and Dave thing, it was all about the Lord and all the way through my last event where I won the Olympic medal, it was all for Him. I look back at the experience and again I rejoice in having that happen in my life where it was obvious that the Lord stepped in was the strength behind it all. It had nothing to do with Reebok or the world. It was all about His desire to have me do the best I could for Him.
Bonham: How often do you reflect on the fact that winning the gold medal could have changed the trajectory of your life?
Johnson: I've thought about that quite a bit. There have been times when I've sat down and I realized the level of where it was going. Along with a gold medal, it would've needed a world record as well but there was stuff waiting to happen that would've been amazing. I was confident that I would've reflected the Lord doing that as well, but there was something else. For some reason I'm always able to remind myself that I wasn't there for all of that. I was there to allow the Lord to work through me and use me for whatever He wanted.
Read more from this interview with Dave Johnson in Chad Bonham's latest book Glory of the Games that features 18 past and present Olympians such as Shannon Miller, Tamika Catchings, Josh Davis, Ryan Hall, Ruth Riley and Kevin Durant as they discuss various biblical principles that have helped them succeed as elite international athletes.