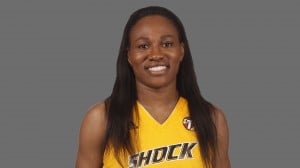 Temeka Johnson has spent most of her life as an underdog. The 5-3 point guard from New Orleans, however, fought through nagging misperceptions that she wasn't tall enough to play big time college basketball much less make it to the WNBA.
Along the way, Johnson won All-SEC honors at LSU, broke the school's all-time assists record, claimed the WNBA Rookie of the Year award in 2005 and was a key part of the Phoenix Mercury's WNBA Championship run in 2009.
These days, Johnson finds herself in another underdog situation—helping the relocated franchise in Tulsa (where the Detroit Shock was moved in 2010) steadily grow into a playoff contender. In this Inspiring Athletes interview, Johnson talks about leadership, publicly sharing her faith and the growing collection of Christian athletes within the WNBA.
Chad Bonham: How has your faith helped you deal with the transition from Phoenix to this young franchise in Tulsa?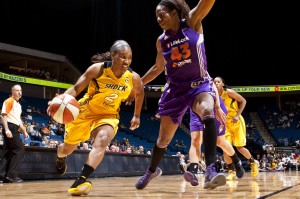 Temeka Johnson: I really think that God puts you in situations to test you. I've always asked Him to help me see the leader that He's ordained me to be. I know that me being here is definitely about leadership. This is helping me grow as a person and that means more to me than the game of basketball. I love the game of basketball, but being a better person means more and it will carry you a long way. Although we're not there yet in the W column, we're progressing together as a team and I'm still growing and learning. It's a test of my faith and it's a test of my leadership. It's a test of how much I truly love Him—being taken out of an okay situation and being placed in the situation I'm in now. I do believe He'll take you where He wants to take you. It might not be perfect right now but I know the latter part will be great. It's going to be in His timing.
Bonham: How important is it for you to take opportunities to speak publicly about your faith such as leading chapel for the teams like you have done on occasion?
Johnson: It is (important) to fellowship with each other across the WNBA. It's very important to share His Word and share the Gospel with not just the players that are in this locker room but players across the league. I was happy (to do chapel) but I was happier that His Word got through and that I was used to deliver it.
Bonham: Are you excited to see so many other players, women like Tamika Catchings, DeLisha Milton-Jones and Ruth Riley, standing up and living out their faith?
Johnson: It's great. It's good to have that. I'm happy to be a part of it. God comes in all shapes, sizes and forms and He'll use every last one of us. I think I'm the smallest of those that you just named, but they're all great women and I'm extremely happy to fellowship with them.