Click "Like" to share this with your friends!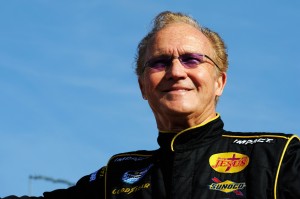 When Morgan Shepherd starts his engine for the Drive4COPD 300 in Daytona next Saturday, he will be kicking off his 45th season as a NASCAR driver and first full season at the age 70. I've had the privilege of interviewing Shepherd twice–once in 2009 and again this past October just a few days before his birthday. His story is one of the most fascinating you'll ever run across in all of stock car racing and his personal testimony is just as compelling. And of course, he's perhaps most famous for his iconic "Racing With Jesus" logo that he displays prominently on the hood of his car. About this time next year, you'll have an opportunity to read more about him along with the history of Christian expression within the sport in a book called The Faith of NASCAR.
In the meantime, I thought it would a fun read for all you NASCAR fans out there plus anyone who simply enjoys an inspirational story. In this interview, Shepherd talks about his humble beginnings in the center of moonshine country, how he overcame alcoholism and why he's still going at it two to three decades longer than the average driver:
Chad Bonham: Tell me a little about your background and how you got started in racing.
Morgan Shepherd: I didn't have any kind of financial background. I lost my dad when I was 12. He was a moonshiner over in Ferguson, North Carolina. That's over near Wilkesboro, North Carolina. That was just a way of life back in the 40s. You might say I'm one of the few guys that's in racing that didn't bring anything money wise into it. My talent of learning about automobiles and stuff is how I learned to race. I actually got a late start in racing. Most of your young people that's in racing now started when they were four and five years old. I helped people when I was teenager, 15 or 16. I'd go to races and help them, but I didn't get to drive a race car until I was 25 years old and almost turning 26 back in 1967.
Bonham: What do you remember about your dad's moonshine experience and how that impacted you?
Shepherd: It was pretty ironic that my dad had his first new vehicle—a '53 Ford pickup—and of course I used to ride with him to make his deliveries. They had old flathead Ford engines back then. He'd put a case of moonshine on each side of the engine and lay them up against the cylinder heads and we'd go make the deliveries. One day the ABC men stopped him. I wasn't with him, but he had a Pepsi bottle that had moonshine in it sitting on the driver's seat. They took his brand new pickup, the first new one he'd ever owned in his life.
Bonham: Has NASCAR always been as open about faith as it is today?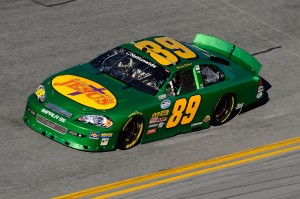 Shepherd: It's always been that way. You never really got the cold shoulder in NASCAR when it comes to your Christian faith. Because let's face it, these are just old country boys that's been in the sport for a long time. Your country boys, your farmers have been the ones that have really stood up for Jesus more than what you would say the city slickers would. This sport has been a country boy's sport where everything was done in the backyard. This sport didn't start out with a ton of money and corporate sponsors like some of the others have more or less made their way. Everything's been grassroots in NASCAR.
Bonham: What keeps you going even though the odds are always stacked against you?
Shepherd: It is my purpose that keeps me driving. It is that I'm a servant of the Lord. It is an opportunity to carry the name of Jesus on our car. I know we reach people worldwide. We were just looking at the hits on our website. From October (2010) to October now (2011), over seven million people have looked at our site. It is our purpose. For whatever reason, God has blessed me with my talent. As far as racing, I know that we're still good but we don't have the money to buy the up-to-date engines. Our equipment is good but we can't hire the people to do the quick pit stops. But the biggest thing is we're running four year old engines. Just like at the Chicago race, I was getting blown away down the straight away so bad. My horse power was 34 horse power below Johnny Davis' horse power. Mine made 610 in the rear wheels, his made 642. Johnny is about 30 horse power under the top teams. Us not being able to buy new engines is the one part that we're really missing. I've told my few guys, I wish that some way we could have the same equipment these other teams have where we could show that we can still do it at 70 years old.
Bonham: Some people have argued that start-and-park cars or underfunded teams like yours don't belong in the sport. How do you respond to that?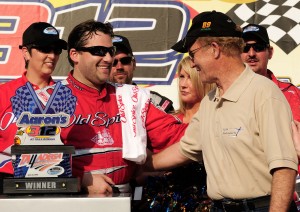 Shepherd: I've been on both sides of the fence. We run all the races now and we can't buy new tires. We get used tires from the Cup guys. Through help like that we're able to do it. Our engine guy, Keith Dorton at Automotive Specialties, they help us much as they can to keep our engines going. It's a business for those guys. They're doing what they feel like they have to do to be involved in the sport and hoping maybe somebody will come along and sponsor them. Some of them use it to finance their other car where they can race another car. We did the start and the park and we've been able to get ourselves in a situation to where we can run the whole race now. Of course, if something bad was to happen, we'd be out of racing because we don't have the big money that it takes to be here. But we have many friends like Kevin Harvick and Tony Stewart and many fans that have helped us to be out there. Richard Childress helped us last year with a couple cars and helped with the points situation. They helped me stay in the sport. We have a lot of friends and we feel like they're all family out there that help keep us going so we don't have to do the start and park. It's just a business.
Bonham: What do you think about these young drivers like Trevor Bayne, Michael McDowell, Justin Allgaier, Ricky Stenhouse Jr., and Blake Koch who are so open about their faith?
Shepherd: It is so encouraging to see in this day and time with what goes on in the world that you've got all the guys that truly love the Lord. Trevor Bayne, he is something else. That young man carries his Bible to the track. He stands up for what he believes in. That really impresses me that we've got a young group in our sport that's not afraid to speak out. They go out and walk the walk and talk the talk. They work with MRO and get involved in a lot of different things. We've got a fine group of guys. But it takes all different kinds. It takes those boys to encourage other young people. That's what we're all about. Whether we're young or old, it's taking your stand for our Savior Jesus Christ.
Bonham: Tell me about your faith testimony.
Shepherd: I only cared about Morgan Shepherd. I partied and drank. Whatever I could do for Morgan Shepherd, that's what I did. That's what the average person does when they don't know Christ. I realized I had a problem with the drinking and I stopped for a year. I realized I couldn't do anything. But through Jesus Christ, all things are possible. God let me get to the lowest point in my life on February 23, 1975. I finally fell to my knees. I had said the words before, but this time I was serious because I was one miserable human being. When I received Christ, He made me see all of the good men in prison that wouldn't be there had they not taken that drink and all the families and all the things that were wasted and down the drain. I've never been tempted by that ever since. I wouldn't be in this sport if it was just about Morgan Shepherd.
Bonham: Your foundation has received a lot of support from some of the other drivers. Can you share a story about that?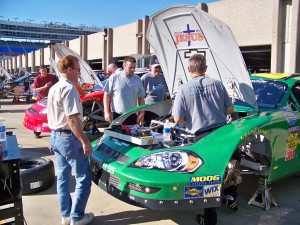 Shepherd: When I was Homestead (in 2008), I didn't qualify for the race and Carl Edwards won the race. We didn't have much money in our charity and I didn't know what we were going to do. I had missed two races in a row and I didn't know how I was going to get through the winter. I was very depressed. After the race, Carl came by holding his trophy and I was trying to get going and get back home. I told Carl, "Don't take these moments for granted. Enjoy it. Appreciate it." He smiled at me and we talked a little bit. As I got ready to leave, I had to go back to him and ask him to move a vehicle. That's when I decided to get him one of my charity brochures. Right there on the spot, Carl offered to give $10,000 for our foundation. I grabbed him and hugged him and shook his hand. That was a $15,000 hug, because he changed his mind and decided to give the charity $25,000 instead. When I got to my motor home and headed up the road, I was so happy and God showed me right there what my purpose was. If I had made the race, Carl and I probably wouldn't have run across each other and it would have helped me financially, but the charity wouldn't have gotten that extra $25,000.
Bonham: How much longer do you think you can keep this up?
Shepherd: A lot of people ask me how long I'm going to do it and I always tell them to ask God. As long as I've got my health—and I can outwork most of these guys out here—there ain't nothing stopping us. I can really take the heat good. I try to stay in shape with my rollerskating and other exercising I do. When these other guys are playing with their computers, I'm roller skating or working on the racecar. So I've got them whipped already on the physical end of it. Carl Edwards can do the back flip but I bet he can't roller skate like I can.
Keep up with the latest on Morgan Shepherd's season and learn more about his foundation by visiting his official website HERE.