Click "Like" to share this with your friends!
Over the past months, Inspiring Athletes has brought you several interviews with some of the biggest names on the PGA Tour. Many of these athletes are participating in a forthcoming book about golf and integrity called Life in the Fairway. Some of those to be prominently featured include Jonathan Byrd, Ben Crane, Aaron Baddeley, Webb Simpson, Stewart Cink, Bernhard Langer and D.J. Brigman.
Kevin Streelman is another one who will be featured throughout this book about golf and integrity. Streelman has yet to win a PGA event during his relatively young career, but he has steadily climbed the rankings and seems poised to capture that allusive first victory in the near future.
But most importantly to Streelman is his relationship with God and his relationship with his family. In this sneak peek at his contributions to Life in the Fairway, Streelman talks about his introduction to the game, what golf has taught him about integrity and why integrity still matters today:
Chad Bonham: What initially drew you to the game of golf?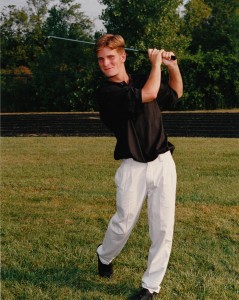 Kevin Streelman: It started for me as a family passion. Both of my parents play. It was our weekend adventure. We never joined a private club but we would travel to public courses all over Chicago, which is just a fantastic area for golf courses. We would get a twilight deal for Saturday and Sunday afternoons and then go to a quick dinner afterwards. It was just a really special family time. I played a lot of other sports growing up. I played basketball and tennis and baseball. Somehow golf just stuck with me and I felt pushed in that direction. I had good results at the right time and it's been step-by-step ever since.
Bonham: What are some lessons about integrity that you've learned from the game of golf?
Streelman: The first thing that comes to mind is integrity. You have to call your own infractions and you have to live with yourself if you don't. That to me has always been the hardest part. If you screw up, you have to try to go to bed that night.
Bonham: Why do you think integrity still matters in today's world?
Streelman: For believers it matters intensely because we're called to follow Christ and we're called to represent Him in every facet of our life. He was the perfect example of integrity, of love, of passion. When we set out every day to live our lives as He did and glorify the King in all we do, then integrity just happens. When you are a believer, when you have your priorities in life lined up, situations in life come up and you first look to Him. The answers to your questions are quickly answered. Who can set a better example than a perfect, living God.
Bonham: Can true excellence happen without integrity?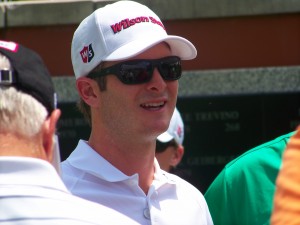 Streelman: True heavenly excellence will not happen without integrity. Earthly excellence or results based excellence can happen, but it depends on your priorities and your intentions. Is excellence winning the Masters and making 100 million dollars and buying houses and cars and having lots of women and all that or is excellence winning the Masters and using that to change 100,000 people's lives by telling them about Christ or inspiring kids? That could be in the eye of the beholder. You might get two different answers.
Bonham: Who are some of the guys on the tour that inspire you in your quest for integrity?
Streelman: The first couple of guys that jump out at me are Ben Crane and Webb Simpson. Webber and I hit it off right away his rookie year on tour. I met him his rookie year and we just gravitated towards each other and have become great, great friends. His first caddy Williams quit this year because he was offered a job as a youth pastor in Savannah, Ga. It was a huge pay cut. But it was his calling. Those were two of my closest friends on tour. Ben is such a rock and such an inspiration whether you need to bounce some things off him, he's very versed, very intelligent and very sweet. He's just a great believer and a great person to surround yourself with. Larry Moody and Dave Kruger with Search Ministries are our chaplains out on tour. They are unbelievable inspirations to everybody out there. Larry has one of the biggest hearts and he's so knowledgeable on scripture. He's just a great role model for us out on tour.
Keep track of the latest from Kevin Streelman by visiting his official website HERE or by checking him on twitter @Streels54.
And this week, Streelman will be teaming up with recording artist TobyMac for the second consecutive year at the AT&T Pebble Beach National Pro-Am. You can follow their progress starting on Thursday, February 9th by visiting the PGA Tour's leaderboard HERE.