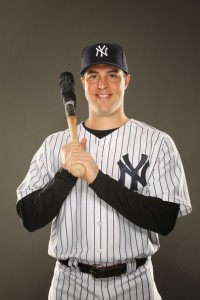 Hit "Like" to share this with your friends!
New York Yankees first baseman hit his 300th career home run today in a 5-0 victory against the Milwaukee Brewers. Check out the milestone bomb by clicking here.
Teixeira has 25 homers on the season and is now the 130th player in the Major League Baseball history to reach that impressive milestone. He ranks 20th among active players.
I've had two opportunities to speak with Teixeira. In my most recent conversation, he spoke about his committed belief in Christ and how that relationship helps him on the field:
"I think that having a relationship with Christ makes me a better player," Teixeira said. "It allows me to handle situations better. It allows me to treat people better and it allows me to have a better mental attitude towards baseball. I'm not going to kill myself when I don't get a hit and that makes me better. Because when you put too much pressure on yourself, it's harder to play."
We'll have the full transcript of that interview next week.