Hit "Like" to share this with your friends!
GOOD WORKS WEDNESDAY: Dwight Howard bowls for charity
Last weekend, Orlando Magic center Dwight Howard hosted a bowling event to raise funds for his new charitable group, the D12 Foundation. When asked about a potential NBA lockout (something PR reps had requested reporters not ask), Howard did what Howard does best. He turned the awkward moment into a joke.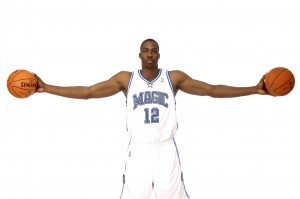 "I'm not worried about the lockout," Howard said. "I have two jobs in place. One, I've been training a couple of chickens in my backyard. I have a miniature treadmill. I have some steroids for the chickens, and we're going to do cockfights. So I might do that. The other one is I've been also training for curling. So I'll be in Canada and Montreal with the curling team up there. So, yeah, I can't wait."
But Howard is dead serious about the D12 Foundation, which hopes to raise money for a children's hospital and the non-profit BETA Center for teen mothers, both based on Orlando.
About five years ago, Howard (kicking off his third year in the NBA at the time), told me in an interview that his parents were instrumental in shaping his desire to impact the lives of others. His mother miscarried seven times before he was born. That fact has also played a role in Howard's outlook.
"I'm really thankful to be alive," he said. "If you get to know me, I'm a person that's always smiling and always joyful and I've been that way since I was born because of the struggles I went through. I was supposed to be number eight that died so I'm always thankful. My mom and dad have always been there. We prayed almost every morning. We had a great foundation at home and it carried on over to school and it carried on over to basketball and it will help me for the rest of my life."
To watch a video about Howard's event, click here.