Hit "Like" to share this with your friends!
TUESDAY CONVERSATION: NHRA Pro Stock Driver Mike Edwards on winning, close calls and Young Life.
NHRA Pro Stock driver Mike Edwards started chasing a dream back over 30 years ago, but somewhere along the way, his desire to win races and championships took a back seat to sharing God's love with others in the sport and more recently with teenagers through a special Young Life drag racing program.
In this interview, the 2009 champion and 30-time race winner talks about that magical season, why associations matter and how youth ministry has reinvigorated his career:
Bonham: What was so special about the 2009 season that allowed the team to basically run away with the championship?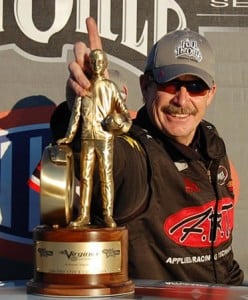 Edwards: 2009 was just our year. We hit the ground running. We came out and we were extremely fast and really consistent. We won five races and we won the ultimate goal for me and for anybody in this class—that's to win the championship. It's just an unbelievable feat and it takes so many people to do it. It's 24-7. You have to live it. It's just what you do every day. It takes so much of your time. It was a rewarding year and something I've tried to do for 30-some years. I won a championship in modified several years ago but to win one in this class is quite a feat. I never thought I could accomplish that. It was the grace of God and everybody just helping me.
Bonham: Of course it looked like the same thing was going to happen again last year, but things didn't quite work out the same.
Edwards: Last year, we won more races than anybody. We won eight last year and then got down to the countdown and just had some really difficult times and had some electrical issues in the car. One thing led to another and it just wasn't meant to be. We ended up third.
Bonham: How has that first title impacted the team?
Edwards: When you win a championship like we did in '09, that brings more TV attention and more public awareness. That just opened up the door for our other program, which is far more important than anything we do and that's the Young Life program. We got lots of recognition for that and lots of response. When you win the championship, you're getting interviewed all the time. Every time I get interviewed, I'm always plugging the Young Life program and all of my sponsors. It all goes hand in hand. When you have success on the track, it gives you more opportunities to do interviews and to talk about the things that matter to you. Of course, that's the first thing on our list. The first priority for us is a program we do every Thursday night with the Young Life kids. It was just meant to be. It was just our time. We've been waiting a long time but it was finally (God's) time.
Bonham: Can you tell me a little more about the Young Life program?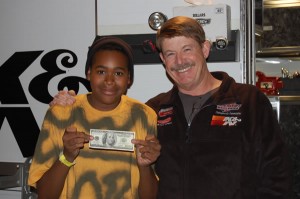 Edwards: We have a program every Thursday night at every event we go to. We have 22 races a year. It's local groups and their leaders bring them out. When Young Life gets together, it's called a club so we just call it our club on Thursday nights. It's just another place to come and fellowship and let the kids get to know us. We have treats and refreshments and hot dogs for them. It's just a place for us to have relationship and get to know them. It's something most kids don't get a chance to do by spending time at the track and being around the racecars.
Bonham: How important has your recent sponsorship from Interstate Batteries been to the team's progression?
Edwards: (Interstate Batteries owner) Norm Miller came on board last year and this year he stepped up and did even more for us. He's very aware of our program. He knows what's going on and he's a first class individual. The website is awesome. It's a really neat deal. When you can associate yourself with people like that and surround yourself with people like that, it's a great feeling to know that they're behind you 100 percent no matter what happens. They know what the real goal is and you really want to be around people like that.
Bonham: Do you get the feeling that other teams respect you for your beliefs and your public displays of faith?
Edwards: I believe so. For the most part, everybody for sure that runs our class knows. In '09 when we did the banquet at the end of the season, I had to get up and speak and most of my whole talk that night was about what I stand for and the things that mean the most to me. Of course, that's the Lord Jesus. Whether they believe it or not, they respect us a lot and they respect what we stand for.
Bonham: Did you come into the 2011 season with a renewed sense of purpose?

Edwards: We're definitely optimistic. I really feel like we didn't finish last year. We had an awesome season. Don't get me wrong. But the ultimate goal every year is to win the championship and we didn't do that. So I feel like in a way that we failed a little bit. Unfortunately there's two seasons in one. You've got the first season where you've got to have enough points to get into the top 10 and the countdown and then once you get there, they strip you of all your points and everybody's neck and neck again. It left a really bad taste in my mouth because I had a 400-point lead before the countdown and then ended up losing it. It was really tough and disappointing for the team. We're working hard and we're optimistic.
To keep up with Mike Edwards Motorsports, visit the team's official website here. You can also follow NHRA at its official site here.
Join Inspiring Athletes tomorrow for Good Works Wednesday featuring Dwight Howard's latest charitable venture.