For a lot of reasons, I was hit particularly hard upon hearing the recent news that Heisman Trophy winner and former NFL quarterback Danny Wuerffel is fighting Guillain-Barré Syndrome, a rare autoimmune disorder that causes paralysis. You can read more details about his situation here.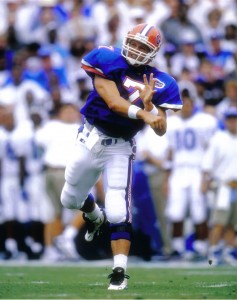 Danny is one of the greatest examples of servant leadership that I've ever met. He is the executive director of Desire Street Ministries and someone who has always put others' needs before his own. Desire Street was devastated by Hurricane Katrina in 2005 but Wuerffel led the charge to restore the ministry. During the summer of 2009, I was blessed to lead a group of young people to New Orleans to help with cleanup projects as Desire Street worked towards a reopening of all facilities.
Another reason Danny's condition hits me is because we are both the father of three. I'm sure his faith is being challenged as he not only considers his personal health but also the security and well-being of his children. I'm writing this post, however, for two primary reasons:
1. Pray for Danny Wuerffel, his family and the people of Desire Street Ministries.
2. Believe that God has something special already planned out through this situation. I base that statement on my firm belief in Romans 8:28.