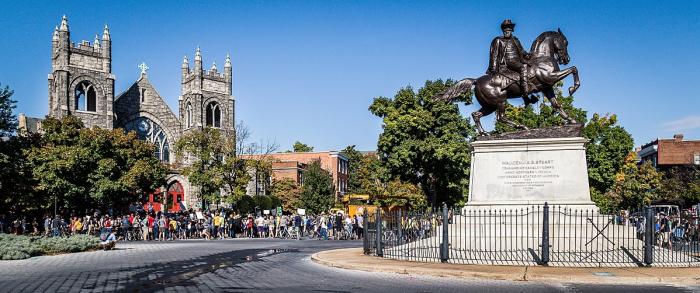 More than 160 Confederate symbols were removed across the nation last year, according to an annual survey taken by the Southern Poverty Law Center. George Floyd's death launched a nationwide reckoning with racism and renewed calls to remove these monuments.
The Southern Poverty Law Center released new figures on Tuesday, which was part of an update to a report that looks at public symbols associated with the Confederacy across the country.
SPLC reported that 168 Confederate symbols were removed or renamed from public spaces in 2020. This figure includes statues and flags, monuments, and seals, official state holidays, names of schools, streets, and other public spaces, CNN reports.
Virginia led the nation in removals. Confederate symbols in public spaces had long been a contention source in the state and across the nation.
The conversation came back up again after Dylann Roof killed nine African Americans in 2015 in a church in Charleston, South Carolina, and again after White nationalists marched to protest the removal of a Robert E. Lee statue in Charlottesville, Virginia, in 2017.
Some Confederate monuments and other namesakes began to come down in the years following those attacks. The killing of George Floyd at the hands of police launched widespread protests over systemic racism and renewed interest in taking the symbols down.
According to a Quinnipiac University poll, most Americans supported removing Confederate statues from public spaces around the nation.
Of the total 168 Confederate symbols that were removed in 2020, 94 were monuments, according to the SPLC.
While progress has been made, there is still more to be done. More than 2,100 Confederate symbols, including more than 700 monuments, remain publicly standing in the country, SPLC said in its report.
Confederate symbols continue to be painful memorials to White supremacy. For many, these statues must come down to move forward.