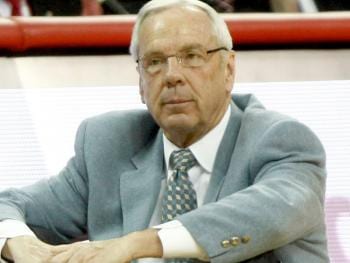 Today the University of North Carolina announced the news that Roy Williams is retiring after 33 successful seasons coaching College Men's Basketball teams. The fan-favorite coach held a news conference at 4 p.m. ET in Chapel Hill today to make a formal statement.
Coach Roy Williams graduated from UNC in 1972. He then worked for ten years as an assistant coach for the UNC Men's Basketball Team under basketball legend and head coach Dean Smith.
In 1988, the North Carolina native accepted a job as the men's basketball head coach at the University of Kansas. Williams led the Kansas Jayhawks to four Final Fours. In 1991, Williams infamously went head-to-head with mentor Coach Dean Smith and the UNC team in the semifinals.
Coach Williams came back to North Carolina to assume the head coach position of the program in 2004. Shortly after, the victorious coach won his first national title with the UNC Tar Heels in 2005 with an impressive roster of future NBA first-round picks, including Marvin Williams, Raymond Felton, Sean May and Rashad McCants.
Roy Williams had an incredibly successful run as head coach. After 15 years with the Kansas Jayhawks and 18 years with the UNC Tar Heels, Williams led both teams to a combined 903 wins as their college basketball head coach. Coach Williams led the Kansas Jayhawks to four final fours and the UNC Men's Basketball team to three NCAA championships in 2005, 2009, and 2017.
In 2007, Coach Williams was inducted into the Naismith Memorial Basketball Hall of fame. The legendary coach has made history by being the third coach in NCAA history to surpass 400 wins at each of the two schools, sitting right behind Mike Krzyzewski and Jim Boeheim. Coach Williams also ranks in fourth place out of all the Division I coaches for his 903-264 winning record.
"On behalf of the ACC, we extend a heartfelt congratulations to Roy Williams on a remarkable career," ACC commissioner Jim Phillips stated. "His resume of accomplishments speaks for itself. More importantly, the countless lives he positively affected surpasses all of the individual honors and awards. Roy's fingerprints will forever be on the sport of college basketball, and specifically the Atlantic Coast Conference. We wish him, Wanda and his entire family all the best as he begins this next chapter of an amazing life."