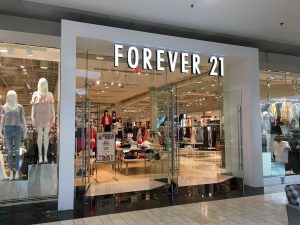 The future of popular fast-fashion brand Forever 21 is now up in the air.
The retailer operates around 800 stores worldwide and is estimated to make more than $3 billion in annual sales. Over the last few months, though, rumors flew around that the company was planning to pursue a Chapter 11 filing. In June, the company reportedly was in talks with advisers and lenders about how to restructure it's debt.
Now, it is reported they will close up to 178 stores in the United States and 350 overall, ceasing operation in 40 countries.
"We went from seven countries to 47 countries within a less-than-six-year time frame and with that came a lot of complexity," Linda Chang, the company's executive vice president said. At the same time, she said, "the retail industry is obviously changing — there has been a softening of mall traffic and sales are shifting more to online."
Since 2017, decades-old American businesses like Sears, Toys R Us, Mattress Firm, and Payless have filed for bankruptcy. It's further evidence of the "retail apocalypse", which is used to describe how the internet changed how customers shop, which effected many brick-and-mortar stores. Other inexpensive fashion retails have also suffered this fate, such as PacSun and Charlotte Russe.
The Chapter 11 filing doesn't necessarily mean that Forever 21 will cease to exist, at least not yet. The option to file gives the company a chance to restructure and still earn money while working towards suspending or reconfiguring debt payment.
"This was an important and necessary step to secure the future of our company, which will enable us to reorganize our business and reposition Forever 21," said Chang in a press release.
Forever 21 was the epitome of the American dream. Do Won and Jin Sook Chang immigrated to the U.S. from South Korea in 1981 with not much more than a high school education. In 1984, the Changs started the chain with a 900-square-foot store in Los Angeles and a mere $11,000 in savings.
The couple is deeply religious, and brought their Christian values to the workplace. Forever 21 prints John 3:16 on its shopping bags and reportedly keeps Bibles at company headquarters. The couple also attends church regularly early in the morning.
"I hoped others would learn of God's love," Chang said through a translator in a CNN interview last year. "So that's why I put [the scripture on the bags]."
Their daughter Helen Chang, the public face of the Forever 21 family, told The Guardian in 2011 that the bag is a "statement of faith". She did clarify, though, "There is no religious tilt to Forever 21. The faith of the founders is separate to the brand – the bag is simply a statement of faith." However, they have printed some Christian clothing items, like their "Jesus Loves You" shirt.
Others have been touched by the brand, so much so that it brought them to Christ.
Rowena Rodriguez, a fashion consultant who worked with Forever 21, said in an email interview: "In the short time I worked with Mrs. Chang, my life was transformed, and I accepted Jesus Christ as my Lord and Savior. Mrs. Chang prayed me into the Kingdom! If you really want to know, I'll tell you. But you won't believe me.The Changs love Jesus!"