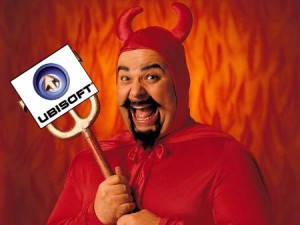 So every so often (actually, quite often) a game company goes and does something so nasty that it makes even Satan look good. This week, that company is Ubisoft, who is reintroducing its draconian DRM for the upcoming PC version of Driver: San Francisco, a popular racing/crime game.
So what's so bad about the DRM that it has me plastering Ubisoft's logo all over funny Luciferian clipart? Well, in order to play the game, you must be connected to the internet. All the time. Constantly. EVEN WHEN YOU AREN'T PLAYING MULTIPLAYER! So if you're playing the single player game and, you know, the internet goes down (but of course that NEVER happens, does it?)….. BAM you get kicked out of the game.
DRM is vicious, nasty stuff that only serves to hamstring the loyal, paying customer. How fast you think the hackers out there can crack this puppy? You're only punishing law abiding customers, Ubisoft. And for that, today, you make even Satan look good.