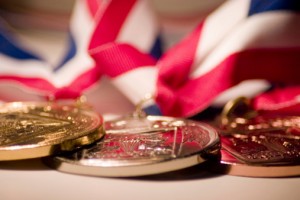 It's amazing. With social media dominating the Olympic Games in London, athletes have no shortage of 'tweets' they are sending. For some, it's gotten them into deep trouble with offensive 'tweets' that resulted in removing them from competition.
But there's one athlete who has captured the world. Gymnast Gabby Douglas is excelling in the games and is proud to 'tweet' about her Christian faith.
As Christianpost.com points out:
Douglas' latest Bible verse tweet occurred on Friday, the day after her historic Olympic win making her the first African-American and person of color to win the women's gymnastics all-around. She tweeted a verse from Romans 12:19: "Beloved, never avenge yourselves, but leave it to the wrath of God, for it is written 'Vengeance is mine, I will repay, says the Lord'" (ESV).

The biblically-inspired tweet came a day after she thanked God in front of millions of viewers Thursday for her second Olympic gold medal during an NBC interview: "And I give all the glory to God. It's kind of a win-win situation. The glory goes up to Him and the blessings fall down on me," she said.
But as you might expect, this kind of expression has generated criticism as well. Yes, hard to believe, but as my colleague David French documents in this post there are those who are critical of this outstanding teen because she is publicly thanking God for her success.
What's encouraging though is the number of celebrities who have come to her defense. According to Christianpost.com, Christian rapper Lecrae – who happens to be one of the favorite music artists of another Christian athlete, Jeremy Lin – sent a tweet to Douglas on August 2: "@gabrielledoug congrats. Glad to hear you meditated on scripture I know how distracting the Village can be." Christian recording artist Natalie Grant also tweeted an encouraging message to Douglas in late July.
Gabby is inspirational. She is extremely talented. And, she proudly proclaims her Christianity at a time when many are afraid to do so.
Her winning transcends the Olympics, as demonstrated by this 'tweet' acknowledging her success: "Thank you guys for everything! I am SO grateful God has truly blessed me! Remember to ALWAYS give him the glory for he is GREAT!"