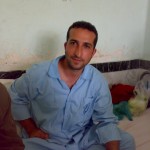 Today marks day number 900 that Pastor Youcef Nadarkhani has been held by the Iranian government – illegally imprisoned – facing a death sentence because of his Christian faith.
As you know, we're involved in this country and around the world to bring attention to this travesty, and to work to secure his freedom. There is a global effort to demand that the government of Iran release Pastor Youcef immediately and unconditionally.
We also confirmed earlier this week with our sources on the ground in Iran that Pastor Youcef was alive as of March 26th, despite rumors and reports that he had been executed.
You can get the latest information about Pastor Youcef and efforts underway to keep up the pressure on Iran to free him immediately. The latest information we have is posted here.
Pastor Youcef remains in an Iranian prison cell – 900 days – two-and-a-half years. Please continue to pray for his release, and share his story through the Tweet for Youcef campaign here.