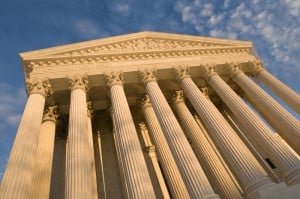 The political posturing began long before the Supreme Court heard oral arguments on the constitutionality of ObamaCare. But, now with arguments concluded, the political posturing is being ratcheted up.
While a new poll suggests most Americans expect the high court to overturn the pro-abortion, government-run health care law, the fact is this will be a very close case.
What's both interesting and troubling is the fact that some on the Left are attempting to put the Supreme Court itself 'on trial' for ObamaCare. At least one liberal group contends if the Justices reject ObamaCare including the individual mandate, which forces Americans to purchase health insurance under penalty of law, this will play into the hands of President Obama's re-election campaign which would use this loss as a rallying point to challenge an activist judiciary.
The truth is ObamaCare is not unique when it comes to controversial constitutional issues that are decided by the nine Justices. It is certainly more high-profile than most, with ramifications that truly affect every American. But this is exactly what our high court was created to do. Tackle the tough issues. Sort out the constitutional consequences. Make a decision.
In a discussion today on FOX News, I made it clear that most Americans understand that if President Obama's landmark measure is scrapped by the high court, and many believe it could be, the outcome of this case underscores exactly what our Founders intended – an independent judiciary doing what it is supposed to do.
http://www.youtube.com/watch?v=aVA2qvQLUME
Don't get me wrong. There's going to be plenty of discussion in this presidential campaign about judges and the judiciary. And, there should be. But that needs to focus on the type of judicial nominees the candidates will put forth – nominees who either uphold the Constitution and the rule of law, or nominees who see the Constitution as a changing document open to interpretation.
We will get the Supreme Court decision on ObamaCare at the end of the term – likely at the end of June. It will be significant and sweeping no matter what the Court ultimately determines.