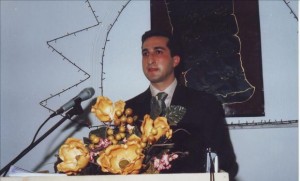 It truly is a matter of life or death. Pastor Youcef Nadarkhani is facing the death penalty in Iran because of his Christian beliefs. It's a case we've written about often  – a case that we've been working to resolve for some time now.
We are now at a critical stage. New information suggests that Pastor Youcef's life is in imminent danger.
Here's the latest on the situation from Jordan, who posted this blog update on Pastor Youcef.
Today marks the 861st day of Pastor Youcef's illegal detention. The ACLJ has launched a massive social media campaign to generate support for Pastor Youcef. The Twitter campaign involves nearly 1,500 individuals who are sending one Tweet a day on behalf of Pastor Youcef. That campaign is now reaching more than 311,000 Twitter accounts in over 180 countries. The goal is to reach one million people a day on behalf of Pastor Youcef.
This latest development on the new dangers facing Pastor Youcef comes as support grows in Congress for a resolution condemning Iran and calling for Pastor Youcef's immediate release. The resolution is posted here.
In a few short hours, we've already heard from more than 10,000 Americans urging members of Congress to sign on to what we hope will be a life-saving push to pressure Iran to release Pastor Youcef without delay. Please add your name to our petition here.
The fact is that Pastor Youcef is still alive today because of your prayers and concern. Please keep him and his family in your prayers. This is a very important time. I will keep you posted on developments as they unfold.